Reforming the African Union
Africa in 2018 was marked by important advances on the economic front, with the agreement to create a Continental Free Trade Area (CFTA). While trade liberalization has the potential to be transformative for Africa, disparate stages of development, protectionist impulses and political tensions may prevent meaningful advances.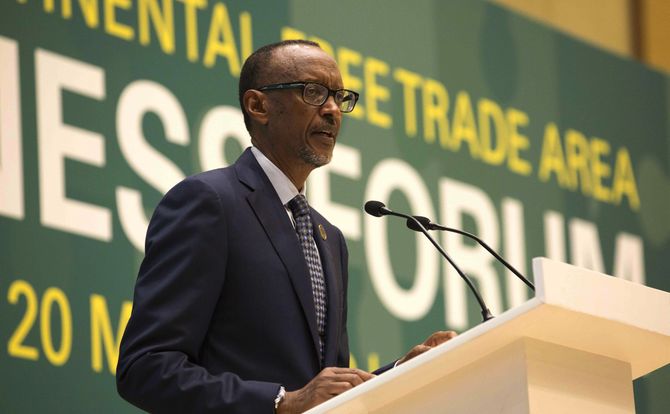 ×
In a nutshell
The African Union is trying to revitalize itself through a continent-wide free trade area
Its reform strategy is realistic by downplaying political in favor of economic integration
However, lack of consensus and a worsening security outlook put the trade deal at risk
Founded in 2002, the African Union (AU) evolved through a delicate balance of federalist ambitions and a gradualist approach – inspired by the European Union – that focused on economic integration and political cooperation, without compromising state sovereignty. But 16 years after its creation, and much like its EU model, the AU finds itself stymied by an overcentralized and inefficient structure and a lack of the financial means needed to achieve its goals.
African countries mostly agree that financial independence is needed for a stronger AU, but many lack the resources or the political will to fulfill their obligations. The Arab Spring and the economic crises gripping the continent's leading economies – Algeria, Egypt, Morocco, Nigeria and South Africa together provide 60 percent of AU contributions – have negatively affected the organization's finances. Even with recent improvements – lower spending, the introduction of a 0.2 percent import levy on member states to fund the EU, and new sanctions on countries that do not honor their pledges – about 59 percent of the AU's 2019 budget is funded by non-African donors.
Diversity is also a challenge in a continent with 55 countries and over 2,000 ethnic groups. Africa's political and economic models range from full-fledged democracies to authoritarian regimes, from market to statist economies, and from middle-income to desperately poor countries.
In 2018, under the leadership of Rwandan President Paul Kagame, who assumed the rotating chairmanship of the AU Assembly, the organization gained new momentum. Mr. Kagame, known for his pragmatism and reformist bent, is admired by his African counterparts as a firm advocate of "African solutions for African problems." His plan for overhauling the AU focuses on four key areas: political affairs, peace and security, economic integration, and representing Africa on the world stage.
Trade opportunity
The reform offers two main opportunities for the African Union which, if seized, would boost African economies and the continent's position in the global order.
The first step is the creation of a free trade area. While it is not an auspicious time for free trade at the global level, history shows that it has been a crucial factor in curbing poverty and fostering economic growth. To date, 49 African countries have signed the Continental Free Trade Agreement, which aims to create a single continental market for goods and services, including free movement of people, businesses and investment capital. Once it is ratified by 22 countries, the agreement will enter force. If all 55 African states ratify the agreement, the CFTA would cover a geographic space of 1.2 billion people, with a combined gross domestic product (GDP) of more than $2 trillion.
Levels of intra-African trade are still modest, reflecting obstacles like high tariffs and poor infrastructure.
Levels of intra-African trade are still modest, reflecting obstacles like high tariffs and poor infrastructure. According to the African Export-Import Bank, this intracontinental trade amounted to $180 billion in 2016 and accounted for just 15 percent of Africa's overall foreign trade (compared, for example, with 67 percent in Europe and 58 percent in Asia). Average import duties within Africa are estimated at about 6.1 percent, which means that intra-African exports are often more costly than intercontinental exports.
Informal cross-border trade, in turn, is a source of income to about 43 percent of the continent's population, according to a 2012 study by the African Development Bank. This astonishingly high total is in part due to the large size of Africa's informal sector and the permeability of its borders, which allow a thriving unregistered trade in everything from cattle and foodstuffs to manufactured goods and drugs.
For some African economies, the CFTA could be an opportunity for economic recovery and growth. Easier access to African markets would encourage much-needed diversification of exports while encouraging economies of scale and higher productivity. For small and medium-sized enterprises – the key drivers of economic diversification and growth across Africa – the CFTA would well transform trade across the continent, by opening access to markets easily navigated by such firms. The agreement's inclusion of trade in services is expected to positively impact service-oriented economies such as Kenya or Rwanda.
With the CFTA, Africa could also be better positioned to exploit global trade trends and use its bargaining power vis-a-visother countries and economic blocs. The post-Brexit difficulties of European trade and the escalating tariff war between the United States and China could increase the attractiveness of African markets and suppliers.
Political realism
The logic behind the AU reform effort is based on realism. In Africa, where state sovereignty is recent (and in many cases fragile), taking a political approach to integration would be a nonstarter. While there seems to be a growing consensus for economic liberalization – as seen, for example, by the rhetoric and practice of new leaders in Angola and Zimbabwe – there is less agreement on political liberalization. This may explain why political cooperation (one of the four pillars of the reformed AU) is given the more innocuous label of "political affairs." Efficiency, rather than normative conceptions about politics, seems to be the priority.
Taking this approach is only sensible in a global context marked by the decline of liberal internationalism and on a continent where the plurality of political regimes makes the imposition of common liberal standards a highly unrealistic goal. This does not mean, however, that the AU's political role is meaningless. For example, its firm stand against unlawful seizures of power has worked as an effective deterrent, helping strengthen constitutionalism (though sometimes only in the formalistic sense) and increasing stability across the continent.
Also important is the AU's recent focus on corruption as an obstacle to good governance and economic development. (Losses due to illicit financial outflows in Africa were recently estimated at about $80 billion a year by Thabo Mbeki, the former South African president who chairs the UN's High-Level Panel on Illicit Financial Flows.) This tough stance reflects a growing Pan-African trend, as corruption has moved to the top of the political agenda in countries like Rwanda, Nigeria, Tanzania and Angola. The AU has launched 2018 as an anti-corruption year, to be championed by Nigerian President Muhammadu Buhari.
×
Scenarios
While the reforms could bring real gains in the AU's effectiveness and financial autonomy, the greatest potential for transformation in the medium and long run is in the domain of economic integration, with the implementation of the CFTA.
This potential reflects a combination of factors. Economic integration is something almost all member states can agree on; if successfully implemented, it will drive economic growth, diversification and job creation; also, freer trade could have the collateral effect of improving political stability and security. These benefits are by no means certain, however. Given Africa's extreme economic diversity, political complexity and security risks, two quite different outcomes are possible.
Bumpy path to growth
Under this more likely scenario, the revamped African Union and the CFTA will have a variable impact across the continent, but the long-term result will be positive. This scenario presupposes that a consensus about the advantages of free trade will prevail over the protectionist instincts of some countries and the pressures of protracted, tense negotiations.
Inevitably, the CFTA will create winners and losers. In competitive economies like Mauritius, Botswana, Namibia or Rwanda, the benefits of a larger market will offset the potential risks of higher competition and lower customs revenue. Because manufactured products account for a bigger share of exports to other African countries than overseas (where demand is greatest for African commodities), more diversified economies like Morocco, Kenya, Ethiopia, Senegal and Ivory Coast will be well-positioned to benefit from the CFTA. The same goes for reforming countries like Angola, where President Joao Lourenco is trying to diversify and liberalize a state-dominated economy.
Resource-dependent countries like Chad, the Republic of Congo or Zambia are expected to be among the losers, at least in the short run. But the long-term impact could be positive even in these states, depending on their ability to adopt mitigation strategies and make structural changes. The outlook for resource-dependent dictatorships like Equatorial Guinea, where authoritarian rule coincides with economic centralization, is mainly negative. In other countries, including South Africa, Nigeria, Cameroon and Zimbabwe, the CFTA's effects will hinge on political developments and the internal security situation.
Almost by definition, a more effective African Union will contribute to political stability across the continent. The same goes for implementation of a free trade area, since economic gains over the long run tend to drive political liberalization "from within."
The implementation of the CFTA should also increase the leverage of African countries in crucial negotiations, including post-Brexit trade agreements with the UK and renegotiation of the African Growth and Opportunity Act granting easier access to U.S. markets, which expires in 2025.
Road to nowhere
Under this less probable scenario, implementation of the CFTA will be blocked or substantially limited by lack of political will among the member states or deterioration of the security outlook. In either case, the African Union's image and operational capacity would be weakened.
Several developments could produce such an unfavorable outcome. The first would be a lack of consensus, in which key countries stay out of the CFTA or only halfheartedly implement its provisions. In South Africa, which is scheduled to hold general elections this year, the ruling African National Congress (ANC) is committed to a "radical economic transformation" that may collide with economic integration and free trade. A step back from South Africa could inspire similar moves from reluctant peers like Nigeria or Tanzania.
Another driver could be a worsened security outlook. Persistent instability in the Sahel, Central Africa and some areas of West Africa, combined with rising tensions in the DRC, Sudan, Burundi, Northern Mozambique and elsewhere, could potentially have a negative snowball effect on integration. In this event, security concerns would compromise the free movement of people and goods over vast areas of the continent.
Finally, a third risk factor comes from inside the African Union. Egyptian President Abdel-Fattah El-Sisi has been elected to succeed Rwanda's Paul Kagame as chairperson of the AU Assembly later this month. Mr. El-Sisi's controversial ambition to extend or lift presidential term limits – a critical political issue in Africa – could derail the AU's broader reform effort. Such institutional disruption would only increase the likelihood of a "road to nowhere" scenario.