Prospects for China's dual circulation strategy
China has set in motion a strategy to become the world's dominant economy, able to steer globalization and geopolitics to its interests. But will dual circulation achieve these grand ambitions or fizzle out?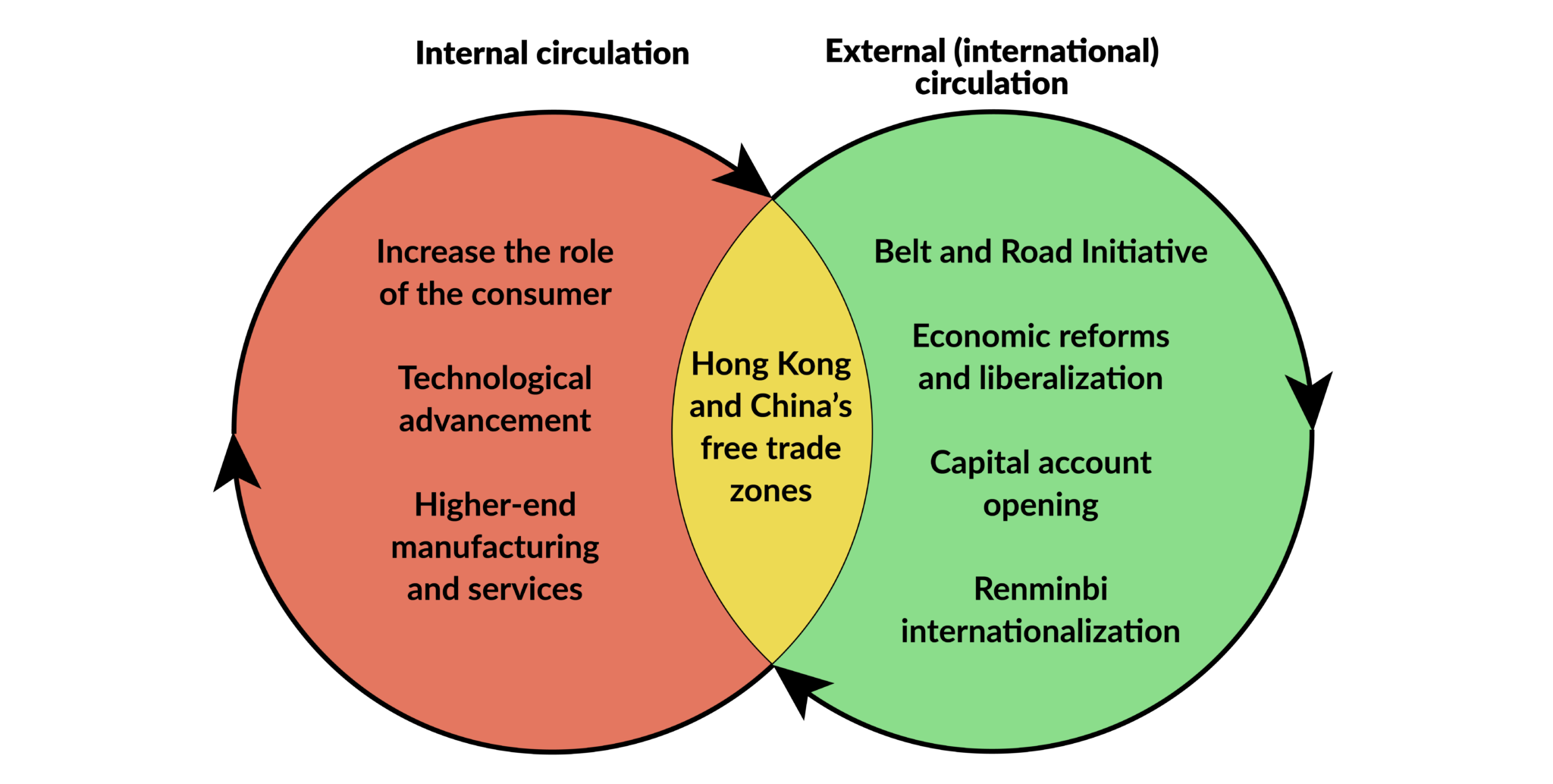 China is the only major economy to have grown in 2020. Now the party and state leadership are preparing for a Chinese era, adding a new economic arrow to their geopolitical quiver.
Once again, the 2021 National People's Congress, held from March 5-11, followed a strict choreography. The political leadership entered the Great Hall of the People to the sound of a military band and led by state and party leader, President Xi Jinping. The members of the tight circle leading the world's second-largest economy were the only ones in the Great Hall not wearing masks – a stark contrast with the approximately 3,000 masked delegates who have no bearing on the decision-making.
There was also a carefully planned surprise. Premier Li Keqiang named the most important goals for development this year: economic growth over 6 percent, 11 million new jobs in the cities and an unemployment rate of about 5.5 percent. Hardly anyone expected that the premier would name a concrete growth target. Last year, the Chinese economy collapsed due to the Covid-19 pandemic, but it still grew by 2.3 percent.
If China meets these targets, it will have fully recovered from the economic effects of the pandemic in record time.
The figures Premier Li gave are ambitious. If China meets these targets, it will have fully recovered from the economic effects of the pandemic in record time.
Li's blueprint
Premier Li continued to outline a blueprint for a new era – one in which China is economically independent of all other countries, and in which all other countries are dependent on China.
The blueprint begins with the newest five-year plan for 2021 to 2025. For that period, spending on research and development (R&D) will increase by more than 7 percent every year. For 2021, China will increase its spending on basic research by 10.6 percent. The government intends to continue its policy of granting an extra tax deduction of 75 percent on enterprises' research and development costs. The deduction will be raised to 100 percent for manufacturing firms.
The new five-year plan features a renewed focus on accelerating the Fourth Industrial Revolution and transforming China into an advanced manufacturing superpower. It outlines steps to strengthen China's global competitiveness in areas such as robotics, new energy vehicles, aircraft development, and agricultural machinery, among others.
But the blueprint goes beyond the five-year plan, positing that China should be the dominant player on the global high-tech stage, ideally by 2035. The Communist Party leadership wants to make the country less dependent on suppliers from the West and to create the conditions for its rise to economic superpower status. According to Premier Li, China would need to "fully apply" the new philosophy and accelerate efforts to create a new pattern to promote "high-quality development."
Hidden in his words are cornerstones of industrial policy: the massive expansion of digital infrastructure, e-mobility and other technologies deemed crucial for the future. The party leadership envisions more than $300 billion in investment in artificial intelligence, quantum information technology, medicine, genetic engineering and biotechnology, as well as clinical medicine and health. Space, deep-sea and polar exploration are also on the to-do list.
Dual circulation
One guiding principle characterizes Beijing's ambitious plan: China will set the pace in all lucrative future industries and become independent of know-how and supplies from abroad as quickly as possible. In the next step, when Chinese companies can manufacture top-quality products that are suitable for the global market, Chinese corporations will supply the world and set international standards. The West will become dependent on China.
To become more independent of foreign countries, China is relying on the concept of "dual circulation." While the idea was first mentioned at a politburo meeting in May 2020, it was only fully explained recently.
Foreign partners will become superfluous and will be replaced by Chinese companies.
Its first component, "internal circulation," focuses on developing China's domestic market. High-tech imports should be replaced as quickly as possible by components produced in China. As an intermediate step, products from foreign suppliers producing in China can also be purchased. In the final step, however, these foreign partners will become superfluous and will be replaced by Chinese companies – not only in the Chinese market, but also in the "external circulation," a global market reorganized according to Beijing's rules of the game.
The core idea behind dual circulation is a concept that can be translated as "home-based globalization." China wants to supplant the United States and the European Union to become the world's biggest consumer market. International companies will be forced to comply with Chinese standards (especially for services and advanced technologies) to gain market access. It plans to build a framework to ensure that foreign companies, lured by the financial reward of gaining or maintaining access to the Chinese market, will promote Chinese standards and political priorities on a global scale. Threatened by consumer boycotts and arbitrary enforcement of administrative regulations, few companies will dare take sides on issues that Beijing deems sensitive.
This should ignite a chain reaction: the internal market is tapped, first by accelerating urbanization, then by rebalancing labor, and then again by directing flows of capital to leap forward in producing top-end products and technologies. According to the plan, this should create enough momentum for Chinese exports to dominate, allowing Beijing to steer global trade.
Economic hurdles
However, China's grand plan faces significant challenges. Other countries have caught on to the strategy's geopolitical goals. Media around the world have identified it as an instrument of intervention in foreign economies. The negative response is uncharacteristic. Typically, China's plans to engage economically abroad are met with high economic expectations and, often, positive commentary.
The plan also has technical problems. The biggest obstacle to China's rise as a high-tech superpower remains its dependence on foreign semiconductor imports. In 2019, the U.S. dominated the microchip industry, with firms based there holding a global market share of 47 percent. South Korea followed with 19 percent. Japan and Europe ranked well behind with a global market share of 10 percent each. China came in last with 5 percent. However, to build up an independent, world-class semiconductor industry, the country lacks not only know-how, but also access to the basic technology for chip production.
Moreover, similar strategies have already been tried in China, without success. The plan to rebalance the economy toward consumption would require a shift of wealth from the state to households – no easy feat. For many consumers in China, their purchasing power is weakening.
Official figures showed that China's sales of retail goods, often used as a gauge for overall consumer spending on goods and services, shrank by around 10 percent in the first seven months of 2020 from a year earlier. But the real decline could have been even steeper, as the retail sales figures include government subsidies for shops and restaurants. In the fourth quarter of 2020, there was an improvement, but the recovery remains weak and uneven. Spending is mainly led by high-end consumption, raising questions about the extent to which pent-up demand was responsible for the recent improvement.
The economy also has structural challenges, like a decline in household income, the widening wealth gap and mounting debt burdens, creating uncertainty about whether consumer spending will continue. Private consumption currently accounts for just 39 percent of China's gross domestic product (GDP), compared to about 55 percent in other major economies.
Beijing's response
China is aware of the shortcomings and is preparing responses to them. It may need to change its national wealth-distribution system, which is tilted toward the state sector by design, so that it can develop a sizable middle class – though it is unclear whether China is ready to make such deep-rooted changes.
By pressuring foreign firms operating in China, Beijing can influence the governments of their home countries.
To gain access to foreign technological know-how and capacity, China wants to buy high-tech manufacturers, especially microchip makers, and is raising money through state subsidiary enterprises. It has its eyes on European companies, since attempts already made in the U.S. have failed because of government opposition, and would also fail in Japan and South Korea. Europe, including Switzerland, is less problematic from Beijing's point of view.
Foreign companies operating in China also offer an opportunity for Beijing to gain leverage. By pressuring these firms, the communist leadership can influence the governments of their home countries. And in any case, China can expropriate production capacity in the country or force foreign firms out of certain markets.
Finally, the party leaders themselves see the actual five-year plan and its instruments as political tools. "We will use our economy to support the greatness of our nation": The prime minister's message to delegates at the National People's Congress in 2021 could not have been clearer. This mandate allows the Party to remedy shortcomings of the plan using political means, or simply by changing its rhetoric.