Failing aircraft venture highlights strains in Chinese-Russian relations
China's goal is to acquire new technology wherever and however it can – including by stealing. But Russia's refusal to share its tech secrets may doom a joint aircraft project.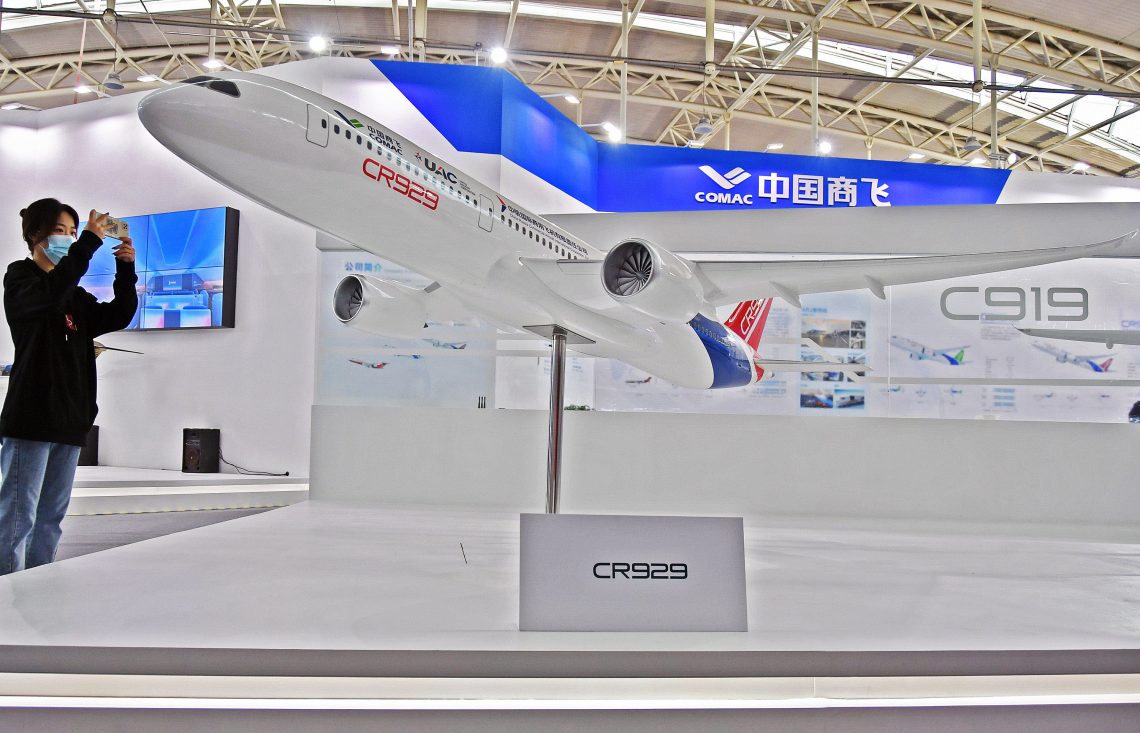 ×
In a nutshell
China and Russia had hoped to rival U.S. and European civil aircraft manufacturers
Unresolved conflicts have delayed the joint development of the CR929 passenger jet
Chinese hacking and Russian arrests over technology transfers expose deep tensions
China's decision to spend $37 billion on the purchase of 292 Airbus passenger jets has stirred the aviation world. Shortly after this news broke in July, China's own narrow-body C919 passenger jet completed its test flight and may soon be ready for customers, a sign that Beijing's ambitious plan to challenge the Boeing-Airbus duopoly in commercial aviation is gaining ground.
At the same time, the development of the wide-body CR929 passenger jet, once seen as the great Chinese-Russian hope for countering the United States and European civil aviation industries, is floundering. The Russians have recently hinted at a possible withdrawal. The reasons for the likely failure of the project provide insight into deep-seated problems in Beijing's relationship with Russia, especially in the area of technological cooperation.
Xi Jinping's intentions
China dreams of establishing a complete aviation industry. In the next 20 years, the global demand for two-aisle, or wide-body, airliners will be around 8,300. The Chinese market alone will need around 1,100 of these airliners with more than 250 seats. Beijing has every reason to develop a large airliner that becomes a triangular juggernaut along with America's Boeing and Europe's Airbus. Its plans to do so began before Xi Jinping assumed the presidency in 2013. To this end, the homegrown development of the C919 medium-body airliner started in 2008 with the establishment of the Shanghai-based Commercial Aircraft Corporation of China, Ltd. It is simply known as COMAC. And in the era of President Xi, the project of making big aircraft has been given an even stronger push.
Following the success of the C919, China kept COMAC in charge of developing the C929, its first large passenger aircraft. Mr. Xi's original intention was to rely on support from the West, but he encountered resistance from Airbus and Boeing. Consequently, President Xi turned to Russia as a new partner. On June 25, 2016, in a deal brokered by him and Russian President Vladimir Putin, COMAC and Russia's United Aircraft Corporation signed a joint venture contract, formalizing cooperation between the two companies on the development of a wide-body passenger jet. On September 29, 2017, the C929 was officially renamed CR929 in Shanghai. C and R represent China and Russia, respectively, "9X9" means longevity based on the homonym in Chinese pronunciation and "2" indicates that the airliner is being developed by enterprises of the two countries.
On the surface, the partnership seemed to make sense. China had never been involved in the development of wide-body passenger aircraft while Russia seemed to have a wealth of experience, including the development of the IL-96 in Soviet times.
There was an undeniable political dimension as well.
Since Russia had been occupying Ukraine's Crimean Peninsula for two years already when project cooperation began in 2016, Russia hoped it had found another ally in its confrontation with the West. President Xi also saw an alliance with Russia as helpful in counteracting the West.
Commercial motivations also came into play. The CR929 was seen as an aircraft that could find customers not only in China and Russia, but also in former Soviet republics, Southeast Asia and some African countries.
The original plan called for the CR929 project to make its first flight around 2025.
With these considerations in mind, the two sides embarked on the partnership and divided up responsibilities. The plan was for the fuselage to be designed in Russia. A Rolls-Royce engine would be used initially but would very likely be replaced by a Russian one. The wings and avionics would be produced in Russia. China's role would include producing the fuselage and tailplane as well as conducting the final assembly in Shanghai.
The original plan called for the CR929 project to make its first flight around 2025.
Russia calculated that the Chinese side had sufficient financial resources and manufacturing capabilities, compensating for the Russian civil aviation industry's financial problems. Moreover, the Russian side intended to use its advantage in engine technology to dominate production and thereby enter the huge Chinese civil aviation aircraft market. The Russians thought they had a strong selling point with the Central Aerodynamics Institute, known as TsAGI, which has more than a century of experience. Chinese technicians, however, did not share President Xi's political calculations, and they did not think highly of Russia's technological prowess. They believed that the Russian era of developing wide-body aircraft was part of a bygone Soviet legacy and that the real developers had already retired.
Troubles from the start
But a more fundamental problem is that Beijing's motivation to cooperate with Russia was one-sided. China had hoped that money would entice Russia to share its engine technology, but Beijing had no intention of sharing its giant market with Moscow. With these conflicting interests from the start, it was only a matter of time before serious troubles began derailing the project.
The Russians originally wanted to use their own IL-96 aircraft as a blueprint for development. The Chinese, on the other hand, insisted on using the Boeing 787, 777 and Airbus A350 as benchmarks for the development of jets with a two-aisle cabin layout, a range of 12,000 kilometers and 280 seats.
Other disputes arose over international marketing, production location for parts, onboard electronic systems and procurement of materials and equipment. These issues remain unresolved. Given these and other differences, such as those involving the reciprocity of research and development, the launch of the joint venture encountered a delay of at least six months.
Friction between the development teams became more visible in September 2020. Russia refused to transfer key technologies to China and, in conflict with its partner, insisted on using the advanced PD-35 engine as the propulsion system. Russia also publicly expressed its resentment over China's unwillingness to share its market.
Russian Deputy Prime Minister Yury Borisov recently said at the Russian "Engineers of the Future" forum that Moscow is not satisfied with the progress of the CR929 aircraft. He announced that Russia is reducing its participation because the joint development is not moving in the right direction. But he struck a note of caution. He said that the project is continuing and did not want to predict its future or whether Russia will withdraw.
×
Facts & figures
Global commercial aircraft demand (2022-2041)
The war in Ukraine
After Russia's invasion of Ukraine, the West imposed a wide range of sanctions on Moscow. As a result, Russia wants to exclude Western suppliers for the CR929 and exclusively use Russian and Chinese parts.
But such a move would delay the project's schedule for at least another three years, to 2028, from the original target of 2025. This is also yet another area of disagreement. China's COMAC believes that the CR929 cannot be completely de-Westernized. For this reason, China rejected the Russian side's proposal. China also rebuffed Russia's plan to exclude Western engines entirely.
Sanctions banning the supply of Western equipment to Russia's civil aviation industry have reinforced Chinese doubts about cooperation with Moscow.
The more enduring problem, however, is that sanctions banning the supply of Western equipment to Russia's civil aviation industry have reinforced Chinese doubts about cooperation with Moscow. Considering that China's primary goal in the CR929 program is to obtain key technology from Russia, Beijing appears willing to let the project collapse if it cannot do so. China may even switch partners and turn to Europe for completion of the aircraft.
Russian media coverage appears to be laying the groundwork for a breakup by warning of China's attempts to dominate the program. Some pundits have even predicted that Russia will withdraw from the CR929 project by the end of 2022 and focus on developing its own PD-35 engine and refitting two engines of the IL-96-400 aircraft.
Not a sincere marriage
In Chinese eyes, Russia is unreliable. The history of several joint projects is one of few successes and many failures. For example, in 2005, China and Russia signed a contract for 38 large military aircraft, only to have Russia change its mind the following year and insist that China pay at least 50 percent more than the contract specified. China refused and the purchase was abandoned.
A subtle political distancing also appears to be taking place. Mr. Xi has shown that his friendship with President Putin has limits. President Xi, for instance, politely declined Mr. Putin's invitation to visit in June, citing the need to stay in China to fight the coronavirus pandemic. This gentle snub calls into question the pre-Winter Olympics statement of a no-limits bilateral partnership, specifically: "Friendship between the two states has no limits, there are no 'forbidden' areas of cooperation."
Turning back to Europe
These developments set the stage for the July 1 announcement by China Eastern Airlines, Air China and China Southern Airlines that they had signed purchase agreements with Airbus Europe. The three companies will buy 292 A320neo series aircraft for $37 billion.
Beijing's move is partly calculated to pressure Russia into handing over engine technology as a condition for keeping the CR929 project going. But Beijing is also not very confident about making parts independently.
Moreover, China sees a policy gap that it wants to exploit between the U. S. and Europe. China's analysis of the West, especially of the recent G7 and NATO meetings, suggests that Europe remains at odds with the U.S over strategy toward China. For example, the NATO 2022 Strategic Concept describes the Chinese Communist Party as a "challenge'' rather than a "threat" and concluded that a strategy of "constructive engagement" is warranted.
China's aim is clear: It needs to acquire the most advanced technologies. Russia's bottom line is also clear: key technologies should never be given to China.
China's aim is clear: It needs to acquire the most advanced technologies. Russia's bottom line is also clear: key technologies should never be given to China.
Since the ratcheting up of the U.S.-China trade war, Beijing has curtailed its fondness for Boeing aircraft and has started to switch to Airbus airliners. Already in 2019, the Chinese leadership signed an order in France with Airbus for 300 aircraft. The aim in damaging Boeing is to pressure the U.S. government into friendlier trade policies with China.
More importantly, however, Beijing wants to use Airbus' technological power to help China improve its own research and development (R&D) capabilities. Airbus and the Chinese side established the A320 series aircraft final assembly line in Tianjin in 2006, the first production line for Airbus outside Europe. And on June 24 of this year, Airbus signed a framework agreement with Suzhou Industrial Park to establish the Airbus Suzhou R &D Center, making Airbus – wittingly or not – China's R&D technical force for the CR929.
×
Scenarios
It is a bit embarrassing for Beijing to talk about a "no-limits" partnership with Russia as the CR929 project is collapsing. Still, despite the setback, Chinese Vice Foreign Minister Ma Zhaoxu recently vowed that China would deepen its cooperation with Russia.
China's aim is clear: It needs to acquire the most advanced technologies. To do this, even if it displeases Russia, it is essential for Beijing not to fall out with the West – or at least Western investors – and to keep the possibilities open for working with European aircraft suppliers and manufacturers.
To achieve its dream, China will use whatever means possible to get technology wherever it can, whether in the West or Russia. In May, an Israeli cybersecurity firm reported that officially backed Chinese hacking groups had launched attacks on Russia, and that many Russian military technology companies had been targeted by Chinese hackers.
Russia's bottom line is also clear: key technologies should never be given to China. That is why Russian scientist Dmitry Kolker was arrested by authorities on July 1 on suspicion of treason for providing state secrets to Chinese security agencies. In January, two senior engineers of a Russian aerospace and naval ship engine company were also arrested for providing engine technology to China and training personnel for China. In February, a resident of the Russian city of Chita was sentenced to eight years in prison for treason involving intelligence gathering operations by a Chinese spy agency.
Getting someone else's technology is everything for China, a strategy that will remain in effect until Beijing has achieved global technological dominance. Under this principle, the best scenario for Beijing is another miracle in civil aviation, like the one that took place with high-speed rail, in which China used Western technology to create its own brand. Such an achievement is possible in the next 10 years.
But Beijing may also face a worse fate than Russia does today if Mr. Xi invades Taiwan to force reunification. Such an attack could happen in the next five years. If it does, China may discover that the West's tolerance for the rulers in Beijing will disappear completely.