A free and open Indo-Pacific: Regional and global implications
One of the techniques devised for managing China's ascent and its destabilizing impact is the concept of a "free and open Indo-Pacific." This idea, embraced by the governments of Japan, India and the United States, includes military, economic, political, legal and diplomatic dimensions.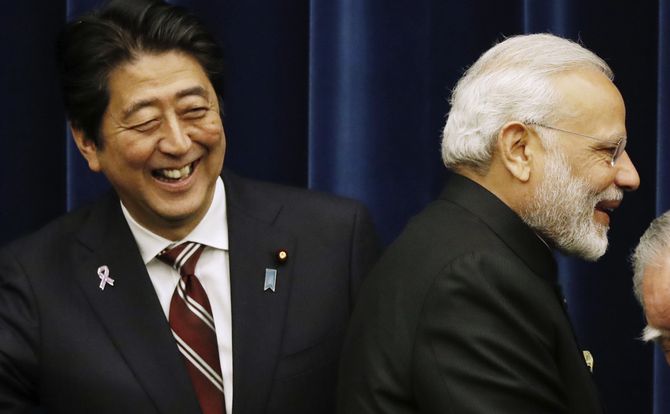 ×
In a nutshell
U.S. security strategy still aims at "stable and open" orders in key regions, like Asia
Japan, India and to a lesser degree Australia seek a framework to deal with China
The Quadrilateral Security Dialogue provides a handy basis, but has its drawbacks
The goal of a larger regional architecture, or even a "Quad plus," remains distant
One of the techniques devised for managing the ascent of China and its destabilizing regional impact is the concept of a "free and open Indo-Pacific." This idea, embraced by the governments of Japan, India and the United States, includes military, economic, political, legal and diplomatic dimensions. For the moment, it does not envision creating a new multinational framework. Rather, the states hope to work through existing forums such as the Association of Southeast Asian Nations (ASEAN) and Asia Pacific Economic Cooperation (APEC) to achieve their objectives.
The free and open Indo-Pacific is not intended to isolate or contain China; rather, its strategic aim is to mitigate the disruption caused by China's expanding power and influence by encouraging the region's sovereign states to cooperate more. Ideally, the result would be to reinforce international norms, provide security guarantees, strengthen civil society and offer free market alternatives to economic development.
Assessments of the concept have been mixed. Some argue it is a smoke screen to mask U.S. disengagement from global leadership. Others maintain it is a tepid, Japanese-inspired effort to enlist American help in response to Chinese pressure. In one way or another, these interpretations are an attempt to reconcile conflicting views of the new U.S. administration. President Donald Trump is seen as either indifferent, feckless or isolationist in his approach to foreign affairs; some believe he does not have a serious China policy at all.
Convergent thinking
As with many aspects of the Trump administration, understanding is increased by focusing on substance rather than rhetoric. The most reliable guide is the White House's recently released National Security Strategy, which emphasizes a determination to sustain "stable and open orders" in three key regions vital to U.S. interests: Europe, the Middle East and Asia. The Indo-Pacific concept is completely consistent with this approach. It would be a pillar not only of American efforts, but cooperation between Washington's three key partners in the region: Australia, India and Japan.
The swift emergence of the free and open Indo-Pacific concept grew out of a convergence in the thinking of national leaders in India, Japan and the U.S. Each in his own way was looking for a strategic framework to address the geopolitical and economic implications of an ascendant China, including national security, freedom of the commons (open access to international waters, airspace and cyberspace) and trade practices. There were also concerns that the lack of transparency and corruption endemic to the Chinese system could be exported through Beijing's expansionary Belt and Road Initiative. The Japanese government began shopping the idea even before President Trump's election. Since then, both the U.S. and India have endorsed the concept.
New Delhi remains skeptical of the Australian commitment to the Quadrilateral Security Dialogue.
The 2018 Raisina Dialogue in New Delhi, co-sponsored by India's foreign ministry, devoted a lot of attention to the Indo-Pacific framework, including a panel on military cooperation featuring senior naval officers from Australia, India, Japan and the U.S. Support for the initiative has become increasingly bipartisan, with both the ruling Bharatiya Janta Party (BJP) and the opposition Congress Party getting behind it. India has also become more open to the Quadrilateral Security Dialogue (or "Quad") with Australian, Japanese and U.S. officials. Last year, for example, the four governments held a working meeting at the deputy minister/assistant secretary level.
New Delhi had been reluctant to use the Quad as a main channel for the Indo-Pacific initiative, in part because it remains skeptical of the Australian commitment. Canberra, for its part, has recently sent strong signals that it is serious about participating in the Quad and the Indo-Pacific initiatives, arguing that both are an important hedge against Chinese regional dominance. Support for this approach is growing on both sides of the aisle in the Australian parliament, both among the ruling Conservatives and opposition Labour.
Quad or triangle?
The Quad concept dovetails with the Indo-Pacific initiative. Japanese Prime Minister Shinzo Abe had championed the idea during his 2006-2007 term, but it went moribund after only one meeting. On returning to the premiership in 2012, Mr. Abe argued for reviving the framework.
There is little question that the U.S. is supportive of both the Quad and the broader Indo-Pacific concept. Both President Trump and then Secretary of State Rex Tillerson used the term in speeches during trips to Asia last year. Not only are concepts reflected in the new National Security Strategy, but the government has also prepared a specific Indo-Pacific strategy. While the latter has not yet received a final sign-off from the president, it is expected to be approved soon. The document is classified, but the administration can be expected to issue a public summary, much as it did with the National Security Strategy.
There is an expectation in Washington that the Quad will evolve into the governing framework for the Indo-Pacific initiative, becoming "Quad plus" as countries beyond the four powers are brought in. That hope is premature. As mentioned, India remains deeply skeptical of the Quad, in part because they worry about Australian political wavering about a proactive pushback against Chinese expansion.
Given New Delhi's concerns, it seems more likely that trilateral talks between India, Japan and the U.S. will be the main catalyst for initiatives, along with traditional "two-plus" bilateral talks on the ministerial level – especially between defense and foreign ministries.
Specific measures and programs are also up for discussion. Some of the ideas currently on the table include creating a regional network of maritime surveillance and monitoring (maritime domain awareness) and building up national coast guard capacities.
Redirecting funds
The economic dimension of the Indo-Pacific is likely to include joint efforts by the three powers to attract more private investment to developing regional infrastructure and markets. The U.S., for example, is considering reorienting the mission of the Overseas Private Investment Corporation (OPIC), a government agency that helps American businesses invest in emerging markets, to focus on areas of strategic importance. Washington can also redirect development funds overseen by the Millennium Challenge Corporation, USAID and the State Department toward the Indo-Pacific region.
The recently released U.S. federal budget for 2019 proposed consolidating "several private sector mobilization and development finance functions at various agencies, such as OPIC and USAID's Development Credit Authority, into a new, enhanced U.S. Development Finance Institution (DFI)." Whether the government follows through on this initiative remains to be seen, but it is clear evidence that there is interest in mobilizing private sector resources for the Indo-Pacific initiative.
Other countries remain wary of getting caught in a great power struggle between China and the U.S.
Other nations may also chip in. France has been much more active in the region of late, particularly engaging with India. The United Kingdom recently announced it plans to conduct freedom of navigation operations in the South China Sea. Singapore also appears to favor the concept, and may use its term as ASEAN leader as an opportunity to promote it.
Taiwan's "Southbound Policy" fits comfortably within the Indo-Pacific framework, which could offer an opportunity for Taipei to break out of its diplomatic isolation.
Handle with care
Other South and Southeast Asian nations are wary of the Indo-Pacific concept. This is partly due to pressure from China, plus reluctance to miss out on the perceived benefits of participating in the Belt and Road Initiative. Most countries also want to steer clear of getting caught in a great power struggle between China and the U.S.
China, at present, is of two minds on the initiative – uncertain whether it represents a long-term threat or is just a political bumper sticker invented by Mr. Abe. Beijing may be cautious about expressing open hostility to the concept, so as not to fan anti-Chinese attitudes that have flared in the region of late – particularly in Australia, where there is renewed resentment over China's efforts to influence domestic politics.
For their part, Tokyo and New Delhi have been quick to anticipate Beijing's concerns by emphasizing the "free and open" nature of the initiative. They claim, for example, to be open to possible joint economic projects with China, provided they meet Western standards of transparency and legality and make economic sense. Furthermore, Washington, New Delhi and Tokyo have all taken pains to emphasize that the Indo-Pacific framework is not an alliance and will not ask countries to take sides for or against Beijing.
The most likely scenario is that the Indo-Pacific concept will press ahead over the reservations of Beijing and other regional powers. Next year the national leaders of Australia, India, Japan and the U.S. can be expected to meet at a summit to discuss further steps. Other countries outside the region will show interest, especially in the European Union, the Middle East and Africa. Countries that could be initial investment targets for the initiative would include Sri Lanka, Bangladesh and the Maldives, along with possibly some of the more strategically placed island nations in Oceania.