Kazakhstan helps Russia evade Western sanctions
Russia's allies secretly let it have Western high-tech components to make advanced weapons and munitions. Curbing such sanctions-busting proves difficult.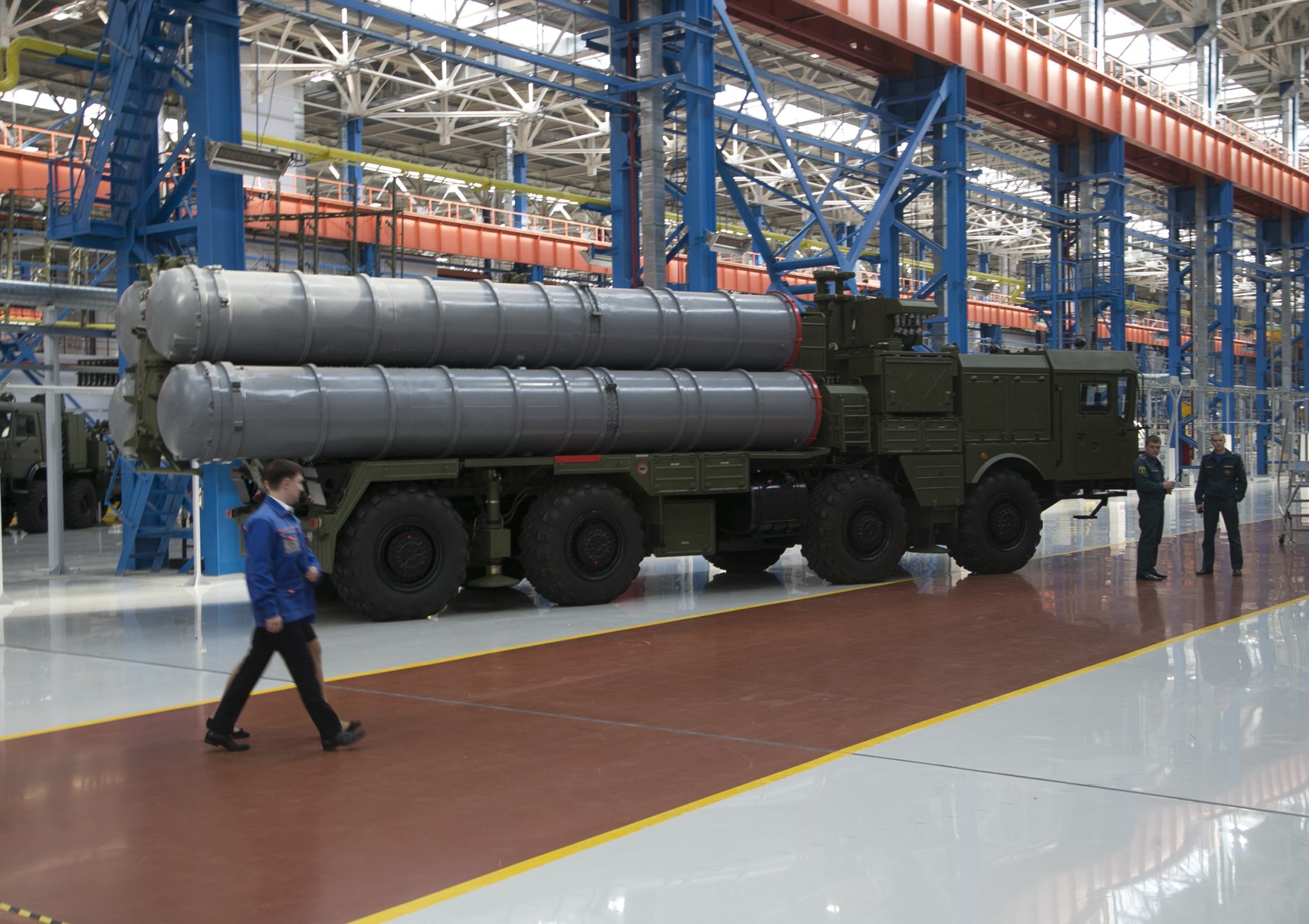 ×
In a nutshell
The West is seeking to stunt Russia's military production with sanctions
Still, Russia has been able to increase its output of precision munitions
Central Asian states are particularly porous links in the sanctions system
The escalation in Russian missile and drone attacks against Ukraine in 2023 shines an unforgiving light on the weakening role of sanctions in countering Russian aggression. One year and a half since Russia's invasion began, the ability of its leadership to prosecute the war has not been thwarted, the cost of continuing it has not approached anything like a breaking point and Moscow's determination to complete the destruction of Ukraine seems intact.
The relentless air campaigns conducted by Russian forces contradict the assumption that even if the economic sanctions fail to break Russian morale, embargoes against the supply of vital technologies would at least impede their ability to do so.
Ukrainian military and intelligence officials and many Western experts claimed that Russian stocks of missiles and guided munitions were running low and that the strikes would abate and eventually cease. That reasoning gained some credibility toward last winter's end. The Kremlin's campaign of targeted destruction failed to crush the Ukrainian energy system, and there was a lull in missile attacks. People in Kyiv could start hoping for a return to normalcy.
Military production in high gear
In reality, the missile and drone attacks continued, albeit at a lower rate than during the past winter of terror. Russian arms manufacturers found ways to maintain the production of projectiles and may have even increased their output. In a recent pitch to the leaders of the G7, Kyiv claimed that Russia had managed to more than double its missile production during early 2023 compared to 2022.
How could this be possible? Consider sanctions busting.
According to the United Kingdom-based Conflict Armament Research, in 2022, components from 144 European, Asian and United States manufacturers were found in advanced Russian weaponry like Kalibr cruise missiles.
What is mainly at stake is not the quality of Russian armaments. As Joseph Stalin supposedly claimed, quantity has a quality of its own.
And multiple open sources describe Russian imports of sanctioned components as recovered to the levels attained before the February 2022 invasion. If accurate, this has serious implications, as Moscow may be able to sustain its aggressive policies.
Read more about Western pressure on Russia
Any discussion of the sustainability of the Russian war effort concerns the factor of quality versus quantity. As Russian defense contractors deal with electronics component shortages, they are reportedly reusing older equivalents, cannibalizing what they need from other equipment and accepting inferior Chinese substitutes.
For example, large batches of artillery munitions produced in 2023 reportedly had to be discarded due to self-detonation risk. However, what is mainly at stake is not the quality of Russian armaments. As Joseph Stalin supposedly claimed, quantity has a quality of its own.
Sources in the Ukrainian air force now claim that Russia is about to ramp up the production of its most advanced missiles, like the Kinzhal and the Iskander. Even if their track record disappoints, they still pose a lethal threat. And Russian engineers may be able to enhance precision by upgrading the software. What makes this scenario possible is the increasing inflow of sanctioned electronics.
Kazakhstan and the sanctions-busting
The pathway for these imports has been indirect, with key European and U.S. manufacturers selling sanctioned goods to companies in third countries that re-export the merchandise to Russia.
Although it is not alone in this shady business, there is evidence that Kazakhstan has become a particularly relevant conduit for such Russian imports. Analysis of the pictures of long lines of trucks waiting to cross the border to Kazakhstan reveals license plates from several European countries. For all its overtures to the West and China, Kazakhstan remains aligned with Russia. Its business elites have extensive Russian networks, and the common border is over 7,500 kilometers long.
According to official Kazakh statistics, the country's imports of microchips in 2022 were valued at $75 million, compared to $35 million in 2021. Meanwhile, the export of microchips to Russia rose more than seventy-three-fold, from $245,000 to $18 million. While customs data for 2021 does not even mention drones, in 2022, Kazakh imports of drones were valued at $5 million, and its recorded exports of drones to Russia were worth $1.23 million.
What could be done to curb these flows? During the first year of the invasion of Ukraine, the Western coalition hoped to apply pressure on countries that might be considering supporting Russia. In a limited sense, that has worked. While China and India have not been shy about helping themselves to cheap Russian gas and oil exports, Iran is the only country that openly delivers arms to Russia. And, as far as is publicly known, that trade has been limited to primitive Shaheed drones. Below the radar, however, the flow of sanctioned technologics has been rising.
There are no silver bullets
Faced with such evidence, NATO member state governments have increasingly focused on curbing the transit trade via third countries. At the end of February 2023, U.S. Secretary of State Antony Blinken visited Astana, the capital of Kazakhstan, to warn all Central Asian leaders that compliance with sanctions against Russia was being closely monitored. The implied threat was that violations would result in U.S. secondary sanctions.
Banks in Armenia, Kazakhstan and Hong Kong reportedly have begun refusing payments from Russian companies for electronics delivered to Russia via parallel imports.
The effectiveness of such pressure was questioned on May 9, when Moscow held its annual Victory Day celebration. Disconcertingly to Ukraine and its NATO friends, leaders from four out of the five Central Asia "stans" were present on the Red Square, the notoriously reclusive Turkmenistan being the exception.
The presence of Kazakh President Kassym-Jomart Tokayev was particularly unsettling to Western observers. Given that Armenia is another vital transit country for Russian imports of sanctioned military-use goods, the attendance of Armenian Prime Minister Nikol Pashinyan was also notable.
Read more on Russia's military
However, two factors caution against reading too much into this formal appearance of friendship. One is that relations between Russia and former friends like Kazakhstan and Armenia have deteriorated drastically in recent years. The other is that the international game of sanctions-busting moves to a more complex level.
×
Scenarios
As we look ahead, two feasible scenarios appear with distinctly different outcomes.
Third countries restrict sanctions busting
As that would thwart the ability of Russia to maintain its output of missiles and guided munitions, it is precisely what Kyiv, Washington and NATO-member countries have been clamoring for. And there are signs some progress is being made.
It did matter that European Commission President Ursula von der Leyen used a visit to Kyiv on the same May 9 to emphasize that the 11th package of sanctions against Russia would focus on blocking the transit trade. And it is significant that banks in Armenia, Kazakhstan and Hong Kong reportedly have begun refusing payments from Russian companies for electronics delivered to Russia via parallel imports.
Yet, it is debatable how far this will go. Journalists affiliated with the Organized Crime and Corruption Reporting Project have mapped how new supply chains are being built using freshly minted companies controlled by Russian interests as intermediaries.
One such company is Aspan Arba, registered in Kazakhstan in April 2022 – two months after the Russian invasion of Ukraine. It is the official dealer for Chinese Inflight Technology Co Ltd.'s "DJI" drones and the largest integrator of the firm's "unmanned solutions." It works with the Russian firm Celestial Mechanics. Another is a German company owned by a Russian couple that began exporting drones to an affiliate in Kazakhstan soon after Russia's full-scale invasion of Ukraine.
The challenge in tracking down and disrupting such trade flows lies in eliciting cooperation from governments in countries marked by notorious corruption and by business sectors with extensive Russian networks. Proving that governments in Kazakhstan and Armenia are ignoring, or even colluding with, sanctions-busting private firms will be a tall order. And one should not expect private entities created for sanctions evasion to fear U.S. sanctions.
A more realistic scenario
Illicit exports of strategic technical goods will keep finding new pathways into Russia. There is a danger in cracking down too hard on governments in states that might be driven back into the Russian embrace. There is plausible deniability for governments that form part of the Russia-led Eurasian Economic Union and, consequently, have no border controls. And there is a reluctance to start playing hardball against Western manufacturers falling short in the due diligence when signing lucrative contracts with little-known companies in third countries.
What may be achieved is a more modest, albeit still significant, ratcheting up of the costs and dangers of sanctions busting. That may be likened to the policy of attrition that the armed forces of Ukraine have used against the Russian invaders on the battlefield.
Russia may eventually be defeated on the battlefield in Ukraine, and its ability to turn out advanced weapons systems capable of threatening Ukraine – and, after the war's end, NATO – may be restrained somewhat. But that will take time and will cost obscene sums of money.