Can the North Korean leopard change its spots?
Singapore summit between the U.S. and North Korea was better than the alternative of a potentially catastrophic outcome of belligerent rhetoric. A great deal will depend on the other North Korean summit – the one with China. For the West, the ultimate success hinges on keeping a focus on human rights as an essential part of the process.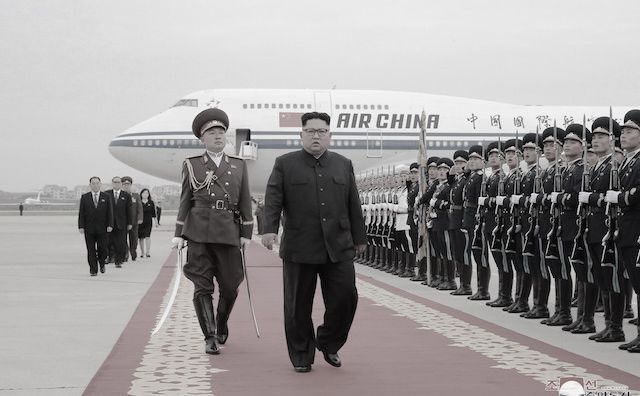 ×
In a nutshell
The White House approach to North Korea stands in contrast to Barack Obama's "strategic patience" – but how strategic is it?
Without verification, attempts to "denuclearize" the regime are not going to work
Dialogue is preferred to war, but there is a fine line between realpolitik and appeasement; let us not lose sight of human rights in North Korea
Fifteen years ago, with my colleague, Baroness Caroline Cox, I made my first visit to the Democratic People's Republic of Korea (DPRK), or North Korea. On return to Westminster, we founded the All-Party Parliamentary Group on North Korea and resolved to work for change in that benighted country.
This, after all, was a country which was still technically at war with its South Korean neighbor and the United States – an unfinished armed conflict that between 1950 and 1953 had claimed around 3 million lives.
It was a country developing a nuclear capability. And a country with a horrendous humanitarian and human rights record. In the 1990s, while millions of dollars were being poured into its weapons program, two million people had died during a devastating famine.
Meanwhile, four years ago, a United Nations Commission of Inquiry (COI) described North Korea as having committed crimes against humanity and its violations of human rights as being "without parallel."
The regime is well aware of how easy it is for democracies to become what Lenin called 'useful idiots'.
This is a country that in 2017 alone conducted six nuclear tests and has repeatedly acted in defiance of the UN Security Council resolutions. It is said to possess 5,000 tons of chemical and biological agents and 1,000 artillery pieces trained on the capital of South Korea, Seoul. It has carried out abductions and assassinations, cyberattacks, the hacking of cryptocurrencies and cyber robberies.
Mounting pressure
The North's calibrated strategy revolves solely around the regime's determination to survive. Toward this goal, its leaders have become masters of offering concessions that are never honored.
Recall that, in the hope of encouraging change, between 2005 and 2009 the U.S. unfroze $25 million of a North Korean fund at Banco Delta Asia – which the regime then used as a slush fund. Its members are well aware of how easy it is for democracies to become what Lenin called "useful idiots" in the hands of a well-practiced snake oil salesman.
In an attempt to break this vicious circle, U.S. President Donald Trump issued denunciations of the continuation of provocative missile tests and the ramping up of North Korea's nuclear weapons programs. The denunciations have been accompanied by displays of Western military strength and the imposition of the U.N. Security Council-backed sanctions – the harshest measures imposed on a country this century.
Beijing's compliance – it cut Chinese exports to North Korea by anything between 70 percent and 90 percent – has made a crucial difference. By comparison, Russia is reported to have broken UN sanctions. However, these steps, and what is described as "disruptive diplomacy" led to President Trump's face-to-face meeting with Kim Jong-un at a summit in Singapore: the first time a sitting U.S. president and a North Korean dictator have had a personal encounter.
The White House policy has undoubtedly been in marked contrast to Barack Obama's "strategic patience" – which was certainly patient but emboldened North Korea even more. The question is, how strategic is the Trump approach?
Devil in the detail
The Singapore summit was clearly better than the alternative – and the potentially catastrophic outcome of belligerent rhetoric between two nuclear-armed states. The greatest danger has always been the law of unintended consequences – and, with a stray shot fired or a missile hitting the wrong target, the danger of escalation. But if the two sides are to move forward, the devil, as always, will be in the detail.
Without the complete, verifiable, and irreversible denuclearization of North Korea and the removal of its ballistic capability, the threat to its neighbors will remain.
Without verification, dependent on the opening up of North Korea, this may prove to be yet another example of Pyongyang's lack of good faith. We recall the North Korean regime's broken promises of 1994 and 2007, and know that its record for trustworthiness is not a good one.
A great deal will depend on what has been agreed in that other, less reported, North Korean summit – the one between China's President Xi Jinping and Mr. Kim – and whether Mr. Xi has told the North Korean leader that China will resume tough sanctions if progress is not made on verification.
It certainly suits Kim Jong-un to have his reputation inflated on the world stage.
China will be crucial if hopes are to be turned into substance – and its agenda, and China's vision of what the future might look like, is very different from the West's.
Parallels have been drawn with U.S. President Richard Nixon's 1972 summit with the Chairman of the Communist Party of China Mao Zedong and U.S. President Ronald Reagan's 1986 Reykjavík summit with Mikhail Gorbachev, general secretary of the Communist Party of the Soviet Union.
It certainly suits Kim Jong-un to have his reputation inflated on the world stage. It is good for domestic consumption too. But the real question is, can a leopard change its spots?
Inseparable issues
This, after all, is the same man who is alleged to have given orders for his half-brother to be murdered in Malaysia's Kuala Lumpur airport and had his uncle executed after he came to power.
It is also a leopard that does vicious and unthinkable things to its people – with every one of the 30 articles in the 1948 Universal Declaration of Human Rights denied or egregiously violated – and with between 100,000 and 200,000 people in its gulags, which the 2014 Commission of Inquiry (COI) compared to Nazi death camps.
Indeed, Thomas Buergenthal, a renowned International Court of Justice judge and Auschwitz survivor, after hearing from former North Korean prisoners and guards, also as part of an inquiry initiated by the International Bar Association, concluded that the country's political prisons are just as bad as, and perhaps even worse, than the Nazi concentration camps. Like the COI, the judge says that Kim Jong-un should be tried for crimes against humanity.
It has been pointed out that the Trump-Kim summit took place on 12 June – an auspicious day as it was the 31st anniversary of President Ronald Reagan's famous Berlin Wall speech, in which he linked the security of the world with the fundamental human rights and freedoms of an oppressed people.
Ronald Reagan, with the strong backing from Margaret Thatcher and Pope John Paul II, trenchantly argued that "Freedom and security go together: the advance of human liberty can only strengthen the cause of world peace."
In urging then-Soviet leader Mikhail Gorbachev to "tear down this wall," President Reagan knew that behind every SS-20 and SS-22 and RSD-10 Pioneer missile, ready to be fired westward, were the gulags of Siberia, mass murders, and unspeakable violations of human rights.
In honoring men like the writer Aleksandr Solzhenitsyn and the physicist Andrei Sakharov, and the countless victims of religious and political persecution, Mr. Reagan was arguing for the whole edifice to be torn down. Human rights were central to his approach.
Key objectives
In 2010, following another visit to North Korea, I published a report: "Building Bridges, not walls." As I have long argued for "Helsinki with a Korean face," that report called for constructive but critical engagement, with human rights to the fore, as they were in the Helsinki process with the USSR.
Without all the elements of a free and open society, it is hard to conceive of genuine progress being made in North Korea on verifiable disarmament. Breaking the information blockade, opening the eyes of the people of North Korea, promoting human rights and encouraging economic reform should remain key objectives – and they must be given a higher profile.
This is a regime that rapes, tortures, indoctrinates and lets millions of its people starve to death.
The Singapore summit has led to commitments on the repatriation of the remains of U.S. servicemen who lost their lives in the Korean War and to the resumption of contact between separated South and North Korean families. We should welcome this. But will it lead to more?
At the press conference following the summit, President Trump confirmed that he had raised the question of human rights in North Korea: "I want significant improvement. I want to start that process. Although you cannot finish that process for a while, you cannot go back." The penultimate paragraph of the Singapore communique states:
The United States and the DPRK commit to hold follow-on negotiations, led by U.S. Secretary of State, Mike Pompeo, and a relevant high-level DPRK official, at the earliest possible date.
That date cannot come too soon.
The Australian Judge Michael Kirby who chaired the COI on North Korea gave the summit a cautious welcome. However, he has also written:
I am glad that President Trump and Chairman Kim met in Singapore. … But I cannot put out of my mind the people who came to the public hearings of the United Nations inquiry. I will begin to respect Kim's word when he opens up his isolated country to allow United Nations inspectors to visit the mass detention camps. Let him do this immediately, and then I can join in the rejoicing for the self-proclaimed triumph of the Singapore Summit of June 2018.
Mr. Kirby said that he continued to be haunted by the testimonies he had heard from some of the 30,000 who have escaped from North Korea. And so am I.
This is a regime that rapes, tortures, indoctrinates and lets millions of its people starve to death. Like Stalin, Kim Jong-un uses mock trials, purges and public executions. The commission of inquiry concluded that, "[t]he gravity, scale and nature," of the human rights violations in North Korea "… reveal a State that does not have any parallel in the contemporary world." In a country where an estimated 300,000 have been killed, Judge Kirby concluded, we have a "duty to address the scourge of human rights violations and crimes against humanity."
And what of those who try to escape? A few months ago, 10 North Koreans, including women and a four-year-old child, were repatriated to North Korea from China, despite South Korea's willingness to give them refuge and citizenship. The father of one of the children, who had reached South Korea, issued an appeal broadcast by the BBC. He said that his wife and son would, "either face execution or wither away in a political prison camp," if sent back to North Korea. He said that he was haunted by images of his young son in detention: "I can almost hear my baby calling my name."
On behalf of families like these, we should speak and act whenever we can.
Solemn obligation
In the Cold War, once destruction was mutually assured, and we realized that weapons used by either side would lead to obliteration, other weapons proved more effective. We should deploy them all again. The Helsinki process opened eyes and minds to systematic injustices. As walls fell, this ushered in an era of extraordinary change.
It remains the historical role of the U.S. and the western democracies to help change even the most nightmarish and oppressive of regimes. Throughout the process that will now begin, human rights should not become an afterthought.
Winston Churchill is often said to have remarked that "jaw-jaw" is to be preferred to "war-war" – and so it is – but he also warned that "an appeaser is one who feeds a crocodile, hoping it will eat him last." In our exchanges with Kim Jong-un, we should not remain silent about the nature of his regime. Striking the right balance between engagement and appeasement will require a different kind of cautious and realistic diplomacy.
Only the future will reveal whether anything has fundamentally changed.
Lord Alton of Liverpool is an Independent Crossbench Member of the House of Lords and Joint Chairman of the Westminster All Party Group on North Korea. He coauthored the book: "Building Bridges: Is there Hope for North Korea?"