Spain reels from the pandemic and an economic downturn
After holding four elections in four years, Spain finally managed to cobble together a coalition in late 2019 – then the pandemic hit. Covid-19 dealt a crushing blow to the country's struggling economy. So far, the government's only solution was to go on a spending spree.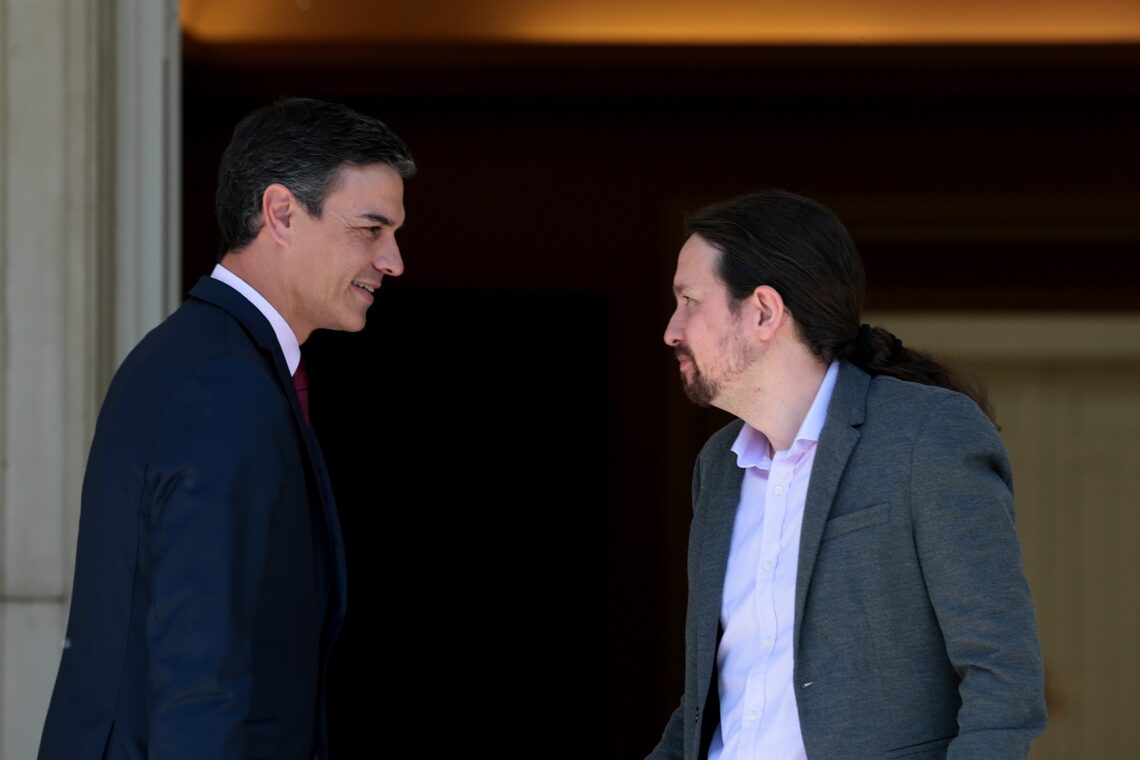 ×
In a nutshell
Spain's left-wing coalition mismanaged its Covid response
It is now proposing a spendthrift rescue package
Economic recovery from the pandemic will be long and difficult
With an already poorly performing economy, Spain was one of the countries worst-hit by the Covid-19 pandemic. Delays in taking measures to combat the disease were followed by a severe and prolonged lockdown. The country is now reopening and Spain's governing left-wing coalition has announced a recovery plan based on prodigious public spending. Amid an inevitable recession and a likely political crisis, Spain's outlook remains bleak.
Polarizing developments
The Great Recession and euro crisis, felt most acutely in Spain between 2009 and 2011, led to structural changes in the country's politics. The two-party system collapsed. New political groups like the far-left Podemos, center-right Ciudadanos and far-right Vox emerged. In 2018, after the fall of Prime Minister Mariano Rajoy's government, the socialist Pedro Sanchez came to power. After four elections in four years and a series of grueling negotiations, Prime Minister Sanchez formed a coalition government in November 2019 with a Podemos-led alliance called Unidas Podemos, as well as Catalan independence parties and Basque nationalists.
By then, it was already clear that Spain's political landscape was severely fragmented and that voters were gravitating toward more extreme views on both sides of the spectrum. Evidence of the phenomenon could be seen in the 2017 Catalan referendum and subsequent constitutional crisis, as well as the growing salience of the Vox party.
The government's management of the Covid-19 crisis and the structure of the economy led to the worst of two worlds.
Economic factors were far from encouraging. Growth had been decelerating since 2015, taxes on labor and consumption were rising, the ratio of debt to gross domestic product (GDP) was estimated at 95.5 percent, and the unemployment rate (14 percent) and relative poverty rate (22 percent) were among the highest in the European Union.
Covid response
The government's mismanagement of the Covid-19 crisis and the Spanish economy's structure led to the worst of two worlds: with one of the highest death tolls per million inhabitants, Spain was also one of the countries hardest-hit by the economic consequences of the lockdown. About 20 percent of Spain's 47 million population is older than 65, while Spanish hospitals had only about 4,400 intensive care beds. The number of cases spiked, as plans for dealing with the pandemic were delayed and mass gatherings continued to be held.
On March 12, Spain's IBEX 35 stock market index fell by more than 14 percent. Two days later, a 98-day lockdown was imposed. In the first two weeks, economic output dropped by 34 percent, more than the eurozone average of 21 percent. The errors were a consequence of Spain's political context. The fragile government coalition depends on fluid alliances and faces a vocal opposition that accuses it of authoritarianism. The prime minister must share the power with a prominent second deputy, Pablo Iglesias of Podemos, who antagonizes the more moderate wing of his Spanish Socialist Workers' Party (PSOE).
×
Facts & figures
Vulnerability to the Covid-19 crisis was also a consequence of Spain's economic structure. Many of its companies operate in sectors such as tourism, where close interaction is an essential part of business. Between April and May of 2020, losses in the tourism sector – which accounts for 14.3 percent of Spain's GDP – were estimated at more than 15 billion euros. In April, the volume of passengers traveling through Spanish airports fell by 99.4 percent. The regional government of Andalusia estimated that under a "best-case" scenario, 100,000 jobs would be lost.
Multilayered crisis
Now an integral part of the government, Podemos was founded in 2014 and is a product of the anti-austerity movement that erupted after the 2009-2011 crisis and brought together various groups across the political left. However, its support was not enough for Mr. Sanchez to form a majority coalition – he also needed to establish agreements with smaller parties. These include the pro-independence Republican Left of Catalonia (ERC) and the far-left Basque nationalist EH Bildu. The former's leader is serving 13 years in prison for his role in the Catalan independence referendum, while the latter is linked to separatist and paramilitary groups.
Mr. Sanchez came to a controversial deal with the ERC. When the vote to approve his governing coalition came up, the party would abstain. In exchange, he would establish direct negotiations between the Catalan government and his administration over the region's political future. While vague, the agreement prolongs the crisis over Spain's constitution, which does not allow for a change in the region's status.
Forming such alliances was necessary for PSOE to come to power – the coalition won a close 167-165 vote. Yet on several fundamental issues, like labor reform or Catalan independence, the party's centrist wing is much closer to some opposition groupings. This composition creates enormous tension within the ruling party. At the same time, the government is coming under withering criticism. Mr. Iglesias's involvement in a phone-hacking scandal and accusations that he and his party received funds from Iran have added to the pressure. The exile of former King Juan Carlos has highlighted deep divergences between Unidas Podemos and PSOE regarding Spain's constitution and the governance systems forged in the country's democratic transition.
Spain's political and constitutional crises will converge with a painful economic one that is likely to last months or even years.
Spain's political and constitutional crises will converge with a painful economic one that is likely to last months or even years. Prime Minister Sanchez has already announced that, in contrast with his predecessor, reducing public expenditure will not be part of the recovery strategy. Instead, his plan entails massive government spending. Economists expect individual and corporate taxes will have to increase.
The government's Covid-19 rescue package totals some 200 billion euros (about 20 percent of GDP). It has also approved 100 billion euros in credit guarantees for companies and the self-employed and announced a public investment plan for 2021-2022 worth 150 billion euros.
Part of the administration's response to the crisis was to speed up the implementation of a national basic income scheme launched in June. The program is expected to reach 2.5 million people and was one of Podemos's main policy goals. The monthly payout varies between 462 euros and 1,015 euros per household. Those who hold low-paying jobs will have their wages topped-up to the guaranteed amount.
EH Bildu and Unidas Podemos are also pushing hard for the government to overturn the 2012 labor reform, although it remains unclear whether it will be totally or partially repealed. The introduction of a minimum corporate tax rate of 15 percent, a tax hike on higher earners and a tax on financial transactions are also under discussion.
×
Scenarios
With a fragile governing left-wing coalition, Spain's political climate faces rising popular discontent, an ongoing constitutional crisis and a dramatic recession – all against a geopolitical backdrop of tremendous global uncertainty.
In July, the European Union decided on a 750 billion-euro bailout package, of which 390 billion euros will constitute grants. The other 360 billion euros will be loans. How much Spain needs to tap into that credit will be a crucial factor in how easily it can recover.
By the end of the year, Spain must draft and vote on a budget for 2021. The shape it takes will also determine the country's economic future.
Under a first and most likely scenario, Prime Minister Sanchez will depend on his smaller coalition partners to pass the 2021 budget. The government will try to address economic challenges through redistribution policies and tax increases. Low investor and consumer confidence, delays in the tourism sector's recovery, business closures and rising unemployment would hamper growth and undermine any short-term positive effects of temporary relief measures. Social unrest would follow, heightening the tensions within the coalition and between the government and opposition.
In such circumstances, Prime Minister Sanchez will find it hard to satisfy demands for fiscal discipline from the EU and the International Monetary Fund without antagonizing the elements of the radical left in his government. He could even be ousted before his term ends in 2023.
A second scenario would see Mr. Sanchez and the PSOE change course. Though this outcome is less likely, recent events have shown that the ruling party is increasingly considering this option. The prime minister could turn to the liberal Ciudadanos party – opposed both to Catalan separatism and Podemos's far-left economic policies – to secure power. Such an alliance would please the moderates in PSOE. If the legal and political pressure on Podemos leader Pablo Iglesias brings his downfall, this scenario would become more likely.
Economic recovery would still be painful, and the exit of Podemos and its alliance partners from the government would likely bring social unrest. Yet a PSOE-Ciudadanos partnership could also reduce political polarization, at least at the party level, while reassuring the EU and the IMF that Spain would follow more traditional economic policies.