What will it take to tame Russia?
British Prime Minister Theresa May pointedly accused the Kremlin of attempting to assassinate a former Russian intelligence operative and his daughter in the United Kingdom. Ms. May also managed to persuade the United States and key EU countries to join in a huge retaliatory expulsion of Russian diplomats.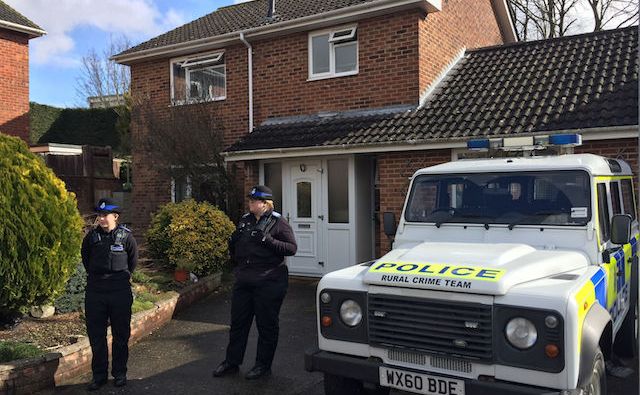 ×
In a nutshell
Theresa May succeeded in building international support for her call to expel Russian diplomats
The two areas of Moscow's real vulnerability are Russian gas and Russian money
The question of whether Ms. May is ready to confront Wall Street and the City of London
The attempted murder of former Russian intelligence officer Sergei Skripal and his daughter Yulia in the peaceful British town of Salisbury has sent relations between Russia and the West to a new low. The story reads like a Cold War spy novel, with the crucial distinction that there is little case of whodunit. The scenario of the Kremlin's culpability is, in the words of United Kingdom Prime Minister Theresa May, "highly likely" to be true.
The key to understanding what has transpired lies in the use of Novichok, a nerve agent once developed in a Soviet weapons laboratory. The use of this toxic substance against the Skripals served as a calling card, leaving a strong indication of which state actor was behind the deed.
The poisoning took place not far from the UK defense laboratory at Porton Down, as though to ensure that experts would get to the scene fast. It also recalls the case of Alexander Litvinenko, another former KGB operative who in November 2006 was killed in London by exposure to polonium, a radioactive metal and one of the rarest elements used in nuclear weapons technology. The Kremlin's pattern is to leave the calling card and then proceed with brazen denials, showcasing the powerlessness of the targeted government.
As allies wanted to wait for more clarity, London was bombarded by the Kremlin with impertinent denials.
The Russians' possible aim, worth taking Western retaliation on the chin to achieve, could be defining President Vladimir Putin's fourth term as taking place in a Cold War-like environment. Then, his strongman antics would go down well among many Russians, while economic mismanagement and hardships at home would matter less.
Targeting Britain could have seemed like a logical choice. Weakened by the pending Brexit, London could have been expected to have little clout in Brussels. If other member states proved reluctant to close ranks with the British, the Kremlin could chalk up a significant strategic victory. The initial reactions suggested that things were going its way.
Enter Theresa May
As allies wanted to wait for more clarity, London was bombarded by the Kremlin with impertinent denials. Perhaps it was the MI6? Or maybe Sweden was behind it? Many Western experts predictably advocated caution, calling the accusations into question. Russian propaganda outlets, like the notorious Russia Today broadcaster, had no problem finding experts to interview, underscoring the Kremlin's accusation of rising Russophobia.
United States President Donald Trump and European Commission President Jean-Claude Juncker, who rushed with their warm postelection congratulations to Mr. Putin, also signaled that Western cohesion was weak. Then the roof suddenly caved in.
In a demonstration that she does in fact know the ropes of diplomacy, Theresa May succeeded in building international support for her call to expel Russian diplomats. President Trump ejected 60 Russians, and more than half of European Union member states followed suit in a concerted action. Ms. May could proudly announce that it amounted to the largest expulsion of Russian diplomats ever.
This response likely exceeded what the Kremlin had bargained for, but it remains unclear if the full weight of Western retribution will be sufficiently strong to cause real regret. So, has President Putin finally taken a step too far?
Russian pie
Usually, the knee-jerk Western response to the Kremlin's aggressive actions has been a combination of moral grandstanding (for the benefit of domestic audiences) and a quiet desire to protect its own interests with Russia. By now, so many have had their fingers in various parts of the Russian pie that the Kremlin remains unimpressed with the condemnations and threats coming over from the EU and the U.S. Seen from its perch, Western players are as corruptible as those at home. Sending diplomats home and adding more items to the list of sanctions that have little impact on the Russian ruling elite is unlikely to change this situation.
The two areas of real vulnerability are Russian gas and Russian money. And in these areas, Western weakness is the most visible.
Yet, this tack would also be likely to implicate many reputable financial-market operators.
In the case of gas, the EU is in a radically better position than it was a decade ago, when Russia assaulted Georgia. A cessation of the Russian gas flow to EU countries would have been calamitous at that time. Today, it would not. The EU has taken such effective measures to improve its energy security that it could threaten to sanction Russian gas. Yet, it does the opposite.
At stake is the approval of Nord Stream 2, which would double Gazprom's capacity to pump gas directly to Germany, via the Baltic. As Poland and the Baltic states have argued, the project makes no economic sense. Its purpose is to bypass Ukraine. An EU green light for the project would thus mean allowing Russia to enhance its energy weapon further, causing real damage to Ukraine.
Many do it
Much has been said about how former German Chancellor Gerhard Schroder was brought on board to promote Nord Stream, how he has taken Gazprom money and appeared at Mr. Putin's birthday parties, calling him a "dyed in the wool democrat."
×
Facts & figures
The Litvinenko case: murder with radioactive material
Alexander Litvinenko (1962-2006) was a naturalized British citizen and former officer of the Security Service of the Russian Federation (FSB). In 1998, he was among FSB officers who publicly accused their superiors of ordering the assassination of Boris Berezovsky, a Russian tycoon and vocal critic of Russian leader Vladimir Putin. Subjected to repeated arrests and legal harassment in Russia, Mr. Litvinenko fled with his family to London, where he was granted political asylum
In two books published in the West, he charged, among other things, that Russian secret services had staged apartment bloc bombings and other acts of terrorism to help bring Vladimir Putin to power in Russia
On Nov. 1, 2006, after meeting with two Russian nationals at the Millennium Hotel in west London, he was taken to hospital feeling gravely ill and died three weeks later of radiation sickness. Tests revealed it was caused by military-grade polonium-210, presumably ingested by the victim in his tea. Experts believe that the deadly rare element must have been produced shortly before it was used
The incident exposed some 700 Londoners to smaller doses of radiation. A restaurant, a nightclub and some other locations had to be temporarily closed
Subsequent British investigations concluded that Mr. Litvinenko's poisoning was conducted by a former member of Russia's Federal Protective Service (FSO) Andrei Lugovoi, assisted by Dmitri Kovtun, both presumably acting under instructions from Moscow's FSB
But culpability is not Germany's alone. From the 2008 war in Georgia onwards, successive Swedish governments have energetically warned about Russian designs and heaped abuse on Mr. Putin. But the harsh public rhetoric was just that.
When, in 2009, Nord Stream 1 was up for approval, Sweden's government accepted the Russian pipeline in Sweden's exclusive economic zone in the Baltic Sea. The opposition Social Democrats protested the move, but Gazprom prevailed, and Nord Stream 1 was inaugurated in 2011. With the second Nord Stream pipeline on the table now, both Germany and Sweden are in favor of it again. The Swedish Social Democrats, now in power, no longer have a problem with Russian pipelines.
The other area where sanctions could do real harm to Russia is in the huge flow of petrodollars. Since the collapse of the Soviet Union, the pattern has been that Russians accumulate wealth at home and transfer it abroad, allowing financial markets in the West to rake in their share in laundering and investing the often ill-gotten funds.
Some very real pain could be inflicted on the Russian elite by tracking down where the billions have been invested and by pressuring Western regulators to investigate their legality. Yet, this tack would also be likely to implicate many reputable financial-market operators. The question of whether Theresa May is ready to go for the Russian money thus boils down to whether she is ready to confront Wall Street and the City of London.
Lessons to unlearn
There is more at stake here than protecting corporate interests. The British leader may also be reluctant to go overboard with threats to reveal and confiscate oligarch fortunes. Due process is at the heart of the British legal system.
Over the past decade, the Kremlin has learned two important lessons. One is that the West does not have the guts to stand up in military terms. From the outset of the crisis in Ukraine, U.S. President Barack Obama ruled out military options. In consequence, the Russians directed their thinly veiled threats of missile strikes at neighboring countries.
The second lesson is that Russia can buy sufficient support even while harshest forms of critique are hurled in its direction. The City of London not only offers Russian oligarchs a haven for their money. Also provided are legal advice on evading regulators and PR support in reputation laundering. The Russia investigation in the U.S. has cast some light on how active and former politicians can be enlisted in such operations.
Theresa May operates under the shadow of Margaret Thatcher: she may want to prove she has 'Falkland guts'.
The point now is how much it would take to cause the Kremlin to unlearn these lessons. Nothing is so easy to destroy and so hard to rebuild as credibility.
Scenarios
Two factors suggest that this time things may be different and concerted reactions from Western governments may rise to the point where huffing and puffing do result in blowing the house down.
The first is that Theresa May operates under the shadow of Margaret Thatcher. She may feel she must prove she has "Falkland guts." Following her initial unequivocal pronouncements, Prime Minister May may find it difficult to settle for merely expelling diplomats. She has, in consequence, opted for looking at ways to curtail imports of Russian gas and suggested that a ban might be imposed to prevent the City of London from selling Russian Eurobonds needed to refinance that country's debt.
The other is that the outrage over the Skripal affair that has been voiced in the House of Commons is matched by anger voiced on Capitol Hill, which suggests that President Trump may also have to agree to real retribution. Even Germany finally seems to have had enough.
Two scripts
The UK may succeed in lining up enough support for targeting real Russian vulnerabilities. An EU decision against Nord Stream 2, for one, would amount to a serious blow for Gazprom. It would also serve a notice that Europe is getting ready to provide serious support for Ukraine. And if it was accompanied by a hunt for the illicit money, key Russian oligarchs would face a tough dilemma: give up the Russian passport and betray Mr. Putin, or risk getting expelled from the West and having the fortune confiscated.
Such actions would trigger a serious escalation from the Kremlin, also in the form of intensifying the war in Ukraine. It is also possible that President Putin would not mind having his oligarchs forced to return home. In any case, though, these are the options that would cause real harm.
The second and, at this writing, more likely scenario, is that it all peters out and, in the end, Mr. Putin walks away with a big win. This could define his fourth term as president. Even if the UK managed to shame all EU member states into asking some Russian diplomats out, Russian Foreign Minister Sergei Lavrov will find some silver lining in it. In several cases at least, the act of expulsion will be accompanied by whispering into the Russian ear – confirming the existence of differences among the Western countries on how to deal with Russia.
It remains doubtful that the Western show of solidarity triggered by the tragedy or the Skripals proves long-lived. Germany already has given all the approval needed to start the works on Nord Stream 2.
The West is unlikely to sustain a serious escalation in Russia-West tension if Mr. Putin opted to raise the ante. The smart money is on ineffectual retribution for the atrocious deed and continued Kremlin probing of how much farther it can go with such stunts before there is a real pushback.