Stable future for U.S.-South Korea relations
While some tension developed between the United States and South Korea under the Trump presidency, most issues have been overcome. Even the upcoming elections in both countries are unlikely to derail the increasingly close partnership between the two allies.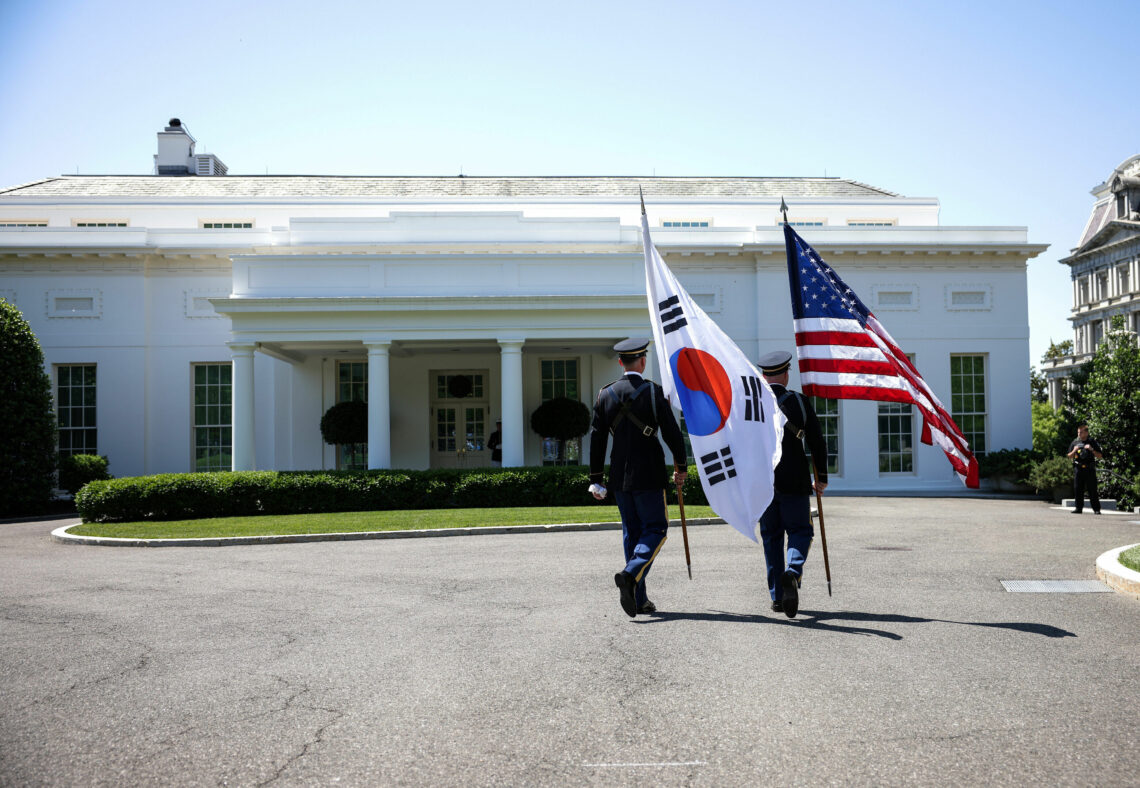 ×
In a nutshell
U.S.-South Korea ties go beyond the North Korean threat
Collaboration is deepening in several areas
Washington will seek Seoul's support to deal with Beijing
In September 2021, after a long hiatus in nuclear and missile testing, the Democratic People's Republic of Korea (DPRK) conducted three missile firings. The provocations elicited muted responses from both Seoul and Washington, in part because both were unclear about Pyongyang's intentions. Also, both remain distracted by other domestic and foreign policy priorities.
This restraint reflects that relations between the United States and South Korea are grounded in priorities that go beyond the DPRK threat. Even with a series of important elections coming up in both countries over the next two years, look to the U.S. and South Korea to explore ways to deepen their ties.
Wild card
When negotiations over the North Korean nuclear program ground to a halt after the Hanoi summit in February 2019, assessments in the U.S. and South Korea differed on why momentum had faltered. Washington suspected that North Korean leader Kim Jong-un would wait to see the outcome of the American presidential elections to know who he was dealing with. The U.S. position remained that it was willing to negotiate a step-by-step process (disarmament steps paired with gradual sanctions relief, financial assistance and normalization of relations). But, at the front end, North Korea would have to agree to the whole package, including verification procedures and a track that culminated in complete denuclearization.
The government of South Korea believed that progress required a less rigid process. The Moon Jae-in administration argued Mr. Kim was looking for tangible concessions, like sanctions relief, for his sustained moratorium on nuclear testing.
Both the U.S. and South Korea concluded that despite the pressure of sanctions, the North Korean regime was proving resilient, with Mr. Kim consolidating his power and maintaining control despite domestic economic hardships. North Korea was receiving sufficient material support from China and Russia to avoid famine and economic collapse.
It is unclear how the election of American president Joe Biden changed the North Korean calculus. After an extensive internal review of the U.S.'s North Korea policy, the Biden team adopted a middle course between the Obama presidency's "strategic patience" and the Trump plan for "maximum pressure." President Biden remains committed to denuclearization but is more flexible on the implementation of the step-by-step program. As of September 2021, backchannel offers of negotiations were consistently rebuffed by the North Koreans. Meanwhile, the U.S. signaled it was not seeking a high-profile summit.
Both the U.S. and South Korea agree the latest missile firings were a calibrated escalation, but both governments had reasons to ignore it. Mr. Biden is distracted by criticism over the chaotic withdrawal from Afghanistan and frustrated by the failure to renegotiate the Iran nuclear deal. Meanwhile, President Moon has only months remaining in his term and is trying to define his legacy, knowing that a breakthrough in negotiations with North Korea is virtually impossible.
Both Washington and Seoul seem willing to live with the status quo. This forbearance, however, gives Mr. Kim some leeway for provocations. Still, the DPRK would have to risk major destabilizing actions to force the U.S. and South Korea off their game.
U.S.-South Korea detente
There is little likelihood that the North Korean leader can drive a significant wedge between South Korea and the U.S. in the short term. After the tumultuous years of negotiating with Mr. Trump over cost-sharing for American forces in South Korea, Seoul found the new American team more than willing to put all that aside. President Moon conducted a highly successful visit to the U.S. in May 2021. The two sides not only reconciled cost-sharing issues but also agreed upon a wide swath of measures to deepen bilateral cooperation. Both appear particularly keen to collaborate on cybersecurity and energy.
Economic relations also appear stable in the near term. U.S. trade policies have become increasingly protectionist under successive American presidents. This will likely continue. Yet, the U.S. and Korea have a long-standing free trade agreement, the KORUS FTA, which was renegotiated and resigned in September 2018.
In addition, South Korea has signaled a strong desire for the U.S. to play a more proactive role in ameliorating the strained South Korea-Japan relations, as well as expanding Korean-Japanese-American trilateral cooperation. In May 2021, the three foreign ministers had a meeting in London. Seoul has also called for three-way talks with defense ministers. While the prospects for deepening ties with Japan seem unlikely in the near term, both Seoul and Washington appear willing to promote the trilateral framework.
Hedging on China During President Moon's tenure, his administration tended to favor balancing relationships between Washington and Beijing. China remains South Korea's single largest trading partner. Early on, the Moon administration was buffeted by the decision to deploy the U.S. missile defense system, THAAD, which triggered both criticism and pressure from China.
There does, however, appear to be a stronger bipartisan consensus in Seoul that as China becomes more aggressive and demanding, its influence needs to be counterbalanced by a deepening, broadened and sustained partnership with the U.S.
South Korea remains interested in its "looking South" policy, which seeks to expand and strengthen relations in South Asia. The initiative dovetails nicely with the U.S. "free and open" Indo-Pacific strategy.
Concerns of failing U.S. commitment to South Korea and fears over the withdrawal of American forces seem to have waned. A case in point is that even though some raised the prospects of the additional contraction of American overseas forces and defense commitments after the U.S. precipitous withdrawal from Afghanistan, Seoul was unconcerned. Indeed, a reduction of U.S. military presence on the Korean Peninsula is not likely.
×
Scenarios
The most likely development is a continued deepening of bilateral ties regardless of the outcome of Korean national presidential elections or the U.S. midterm congressional elections next year.
President Biden's strategy for dealing with China is likely to make Washington even more forward-leaning on bilateral cooperation. The administration is striving for a balance between collaboration and competition with Beijing. The shortfall of this policy is that the prospects for significant cooperation between Washington and Chinese leadership are slim.
The White House's flexibility to make significant concessions to China is likely greatly reduced after the Afghanistan evacuation fiasco, which significantly diminished confidence in the president's foreign policy leadership. As a result, the U.S. will probably invest more in dealing with allies to counter China.