The U.S.-China chip race heats up
The American effort to restrict Chinese semiconductor development is a blow to Beijing's ambitions, but reshaping the global chip industry will have spillover effects.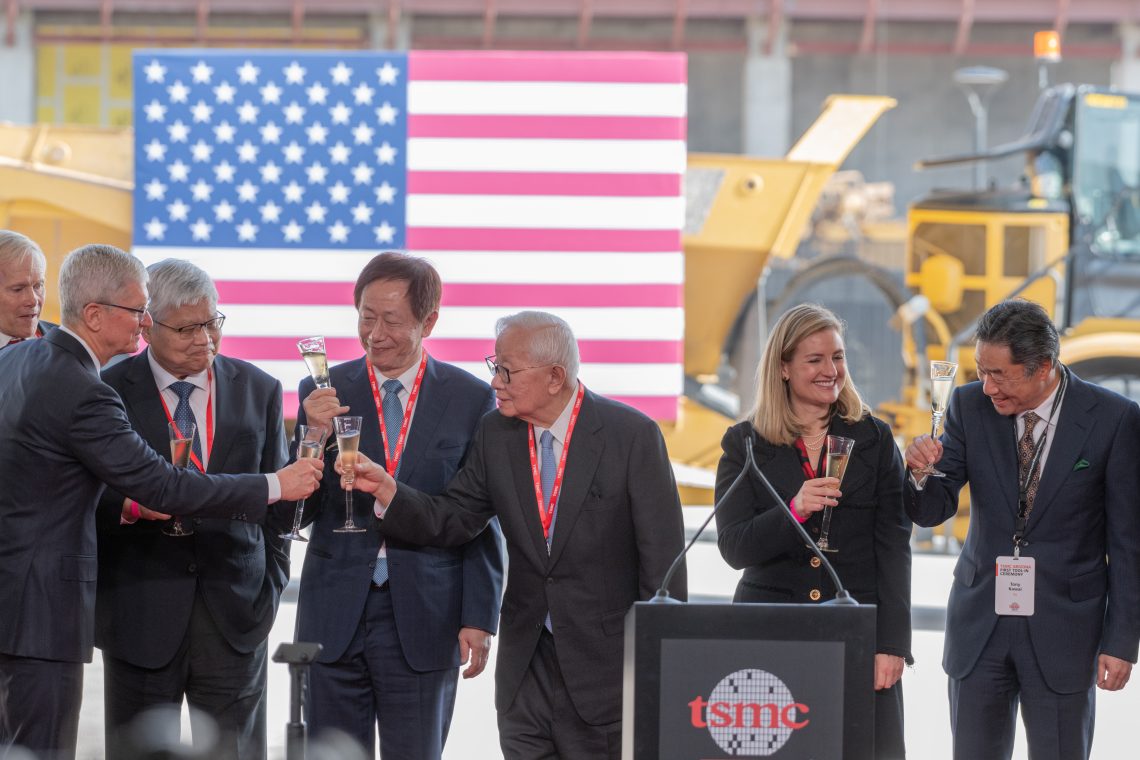 Semiconductor chips are virtually ubiquitous. They form the basis of all advanced technologies, from artificial intelligence and quantum computing to cloud systems and big data. Advanced chips, meanwhile, are of specific military significance. A series of measures was implemented by the United States last year aimed to curb China's rapid growth in various areas of the semiconductor space, especially military technology. The success or failure of these measures will have a profound effect on the U.S.-China competition going forward.
Chip production landscape
The semiconductor industry includes three major segments: chip design, chip manufacturing and chip packaging and testing. The U.S. has the strongest overall position and is a leader in most semiconductor technologies. Most of the advanced semiconductor equipment comes from American technology, much of which has no foreign alternatives
In terms of production, the U.S.'s Intel can only produce 7-nanometer (nm) chips. Only Taiwan's TSMC and South Korea's Samsung Electronics have succeeded at making chips smaller than 5 nm, achieving the 3 nm mark. These two companies are now engaged in a race for the 2-nm chip. The U.S. does not produce any of the highest-performance chips today; 92 percent of such products are made by TSMC, and the rest in South Korea. The U.S. share of global chip production has fallen from 37 percent in 1990 to 10 percent today.
Washington's goals
The U.S. is now seeking to maintain its leading position and protect its interests in nanotechnology, quantum technology, artificial intelligence, military applications and overall national security. To those ends, Washington has decided to restrict the export of logic chips with technology generations below 14-16nm, NAND-type flash memory with more than 128 layers and other equipment needed to manufacture cutting-edge semiconductors. Electronic Design Automation software, indispensable for semiconductor circuit design, has also become a target. The U.S. issued embargo regulations over China in August and October of 2022, with the latter being the most extensive such export ban in years. The new rules prohibit the sale to China of advanced chips with high performance (at least 300 trillion operations per second) and fast interconnect speeds (generally at least 600 gigabytes per second).
The provisions also restrict any sale to China of equipment used to manufacture advanced logic or memory chips. In a rare move, the October set of restrictions targets not only companies but also individuals. If an American citizen, green-card holder or entity wants to assist China in developing its semiconductor industry, they must apply for prior approval. This will affect the many senior executives in China's semiconductor industry who have U.S. citizenship.
As Washington has significantly tightened export restrictions, it has at the same time decided to rebuild its own manufacturing industry. The U.S. government has set a goal of establishing at least two domestic manufacturing clusters to produce the most advanced logic chips, as well as facilities for other types of chips and a complex supply network to support their production. The goal is to escape the rut of chip dependence on other countries, especially Taiwan, in order to safeguard national security. The Chip and Science Act passed in August 2022, has a $280 billion budget; only $39 billion is used to subsidize chip manufacturing, with the rest mainly devoted to research and innovation.
Chip Four
To ensure effective enforcement of its embargo against China, Washington has stepped up coordination with other chip-making countries. An official meeting of a semiconductor supply chain resilience working group – a four-party alliance of the U.S., Japan, Taiwan and South Korea, sometimes known as the Chip Four or Fab Four – was held on February 16. Taiwan and South Korea are strong in manufacturing, the Americans have design and equipment advantages, while Japan has an edge in materials.
After tough negotiations, the U.S. secured an agreement early this year with Japan and the Netherlands to follow the American approach and jointly restrict Chinese semiconductor exports. For example, the Netherlands will ban the export of extreme ultraviolet lithography (EUV) tools to China, without which the economic cost of producing advanced chips is too high or simply impossible. More recently, the country declared a similar ban on the export of deep ultraviolet lithography (DUV). This alliance is continuing to grow, with Germany and the European Union also expected to join in.
To restore its own chip manufacturing industry, the U.S. has used subsidies to encourage domestic and foreign manufacturers to invest in the country. Taiwan's TSMC plans to start mass production of 5nm chips in Arizona in 2024. The investment amounts to $40 billion, one of the largest foreign direct investments in U.S. history. Samsung will build a chip factory in Texas with an investment of $10 billion. Since 2020, semiconductor companies have proposed upwards of 40 projects across the U.S., valued at nearly $200 billion and expected to create 40,000 jobs, according to the Semiconductor Industry Association.
Chinese ambitions
The U.S. ban is clearly a major blow to President Xi Jinping's efforts to achieve his Chinese dream. The "Made in China 2025" initiative, launched in 2015, places special emphasis on the independent development of semiconductors and set the goal of achieving a 40 percent chip self-sufficiency rate by 2020 and 70 percent by 2025 (the actual chip self-sufficiency rate in 2019 was 30 percent).
Realistically, China does not have a large semiconductor research team, and there is a serious lack of investment in basic semiconductor research. Moreover, for now, China's semiconductor industry lacks a collaborative innovation mechanism.
As almost all the materials, chemicals and spare parts needed for semiconductor production come from the U.S., Europe and Japan, China's chip capacity will lag that of the U.S. in the coming years after cutting off this source. The abovementioned goal of reaching a 70 percent chip self-sufficiency rate by 2025 is an impossible aspiration given the U.S. restrictions.
In terms of talent, China's semiconductor industry will need nearly 800,000 foreign professionals by 2024, more than a third of the local talent supply. But according to current U.S. regulations, many experts do not want to miss the chance to enter the American semiconductor industry later because of their records of working in China. It may end up a great success if China could acquire even 8,000 such workers in the future.
Even so, President Xi believes in his strategy of "concentrating resources on big things." And indeed, there are experts outside China who seem to give credence to that strategy. As Bill Gates said in March: "I don't think the U.S. will ever be successful at preventing China from having great chips … we are going to force them to spend time and a bunch of money to make their own chips, but [give them] five to 10 years and they take money out of their poverty program. The idea that we could ever sell them chips, we're just eviscerating that."
Negative effects
In the case of economic sanctions, any embargo provision will impact not only the embargoed party but also other chip producers and manufacturing equipment manufacturers. U.S. President Joe Biden has effectively begun reshaping the entire supply chain of the semiconductor industry and related production sectors, with uncertain consequences.
The U.S. restrictions are not limited to American companies but also restrict trade in products using American technology. The Dutch ASML, involved in lithography equipment essential for ultra-fine circuit formation, and Japan's Tokyo Electron, which has advantages in areas such as thin film formation equipment, are also subject to restrictions. China is the world's largest semiconductor chip sales market, accounting for about one-third of global sales. Restrictions on sales in China will affect the revenue and profits of U.S., Japanese, Korean and Taiwanese chip companies, and have a huge impact on semiconductor equipment manufacturers. In other words, from the manufacturers' standpoint, the embargo on China's advanced chips and manufacturing equipment means considerable losses.
At the same time, there are doubts about whether the U.S. efforts to revive its own chip manufacturing industry will ultimately succeed. Due to the huge cost of building highly advanced semiconductor facilities, partly caused by strict regulations for the sector, the available funds may be quickly spent. The sustainability of such subsidies in the absence of a more industry-friendly environment is a concern.
As the consequences on China's economic development deepen, Beijing is sure to seek retaliation against the U.S. and its allies.
TSMC's founder and former CEO and chairman, Morris Chang, is not completely optimistic about such policy efforts. One reason is that the cost may far exceed what the U.S. government can afford. Another is that the combination of technology leadership, supplier diversity, and resilience found in Taiwan is not present anywhere else in the world. Take corporate culture as an example: TSMC expects dedication from engineers to their own company, which might be difficult to transplant to the U.S.
China's response
In a recent article on the American restrictions, Luo Junwei and Li Shushen of the Chinese Academy of Sciences noted that Chinese chip makers had planned to develop the sector without doing their own fundamental research. "But since the U.S. turned off the 'lighthouse,' we have now entered a dark forest," the researchers declared. In the first half of 2022, China's total integrated circuit imports exceeded 1.35 trillion yuan, already surpassing total crude oil imports. That dynamic is unlikely to maintain this year or going forward.
China filed a World Trade Organization (WTO) complaint against U.S. export controls. However, both the U.S. and China know that it will take at least a few years just to deal with the case, and no one knows if it will be resolved.
In the meantime, China is considering taking more proactive measures in response to the U.S. restrictions. China's domestic chip process nodes are mainly concentrated between 90nm and 28nm, the so-called traditional, mature products. The performance of these chips is not as advanced as 14nm or even smaller process nodes, but they can still meet the demand for the vast majority of technological applications. China's "mature products" in 2019 accounted for 9 percent of global production capacity. The automotive, home appliance, medical, machinery, chemical and military industries are largely dominated by these traditional chips. Beijing can greatly expand its production of mature, non-advanced chips to control the global market, just as China's solar panels now dominate the world (with more than 80 percent of global production capacity) – creating another type of Western dependence.
In addition, China is also trying to move toward advanced chips despite significant difficulties. In February, at the International Solid-State Circuits Conference – sometimes known as the "semiconductor Olympics" – mainland China surpassed the U.S. and South Korea in the number of selected papers from various countries and regions, achieving first place for the first time. This shows that the strength of Chinese semiconductors is steadily improving.
Since the ban has only recently taken effect – although a large number of Chinese chip companies have already closed down – many negative effects may take another year to emerge. As the consequences on China's economic development deepen, Beijing is sure to seek retaliation against the U.S. and its allies. China's Ministry of Commerce drafted a catalog of banned export technologies, including rare earth technology exports, which means that rare earth metals could become an important tool to counter the U.S. chip ban.