China's growing economic impact on the Middle East
By investing strategically in key infrastructure, China has become Middle Eastern countries' main economic partner.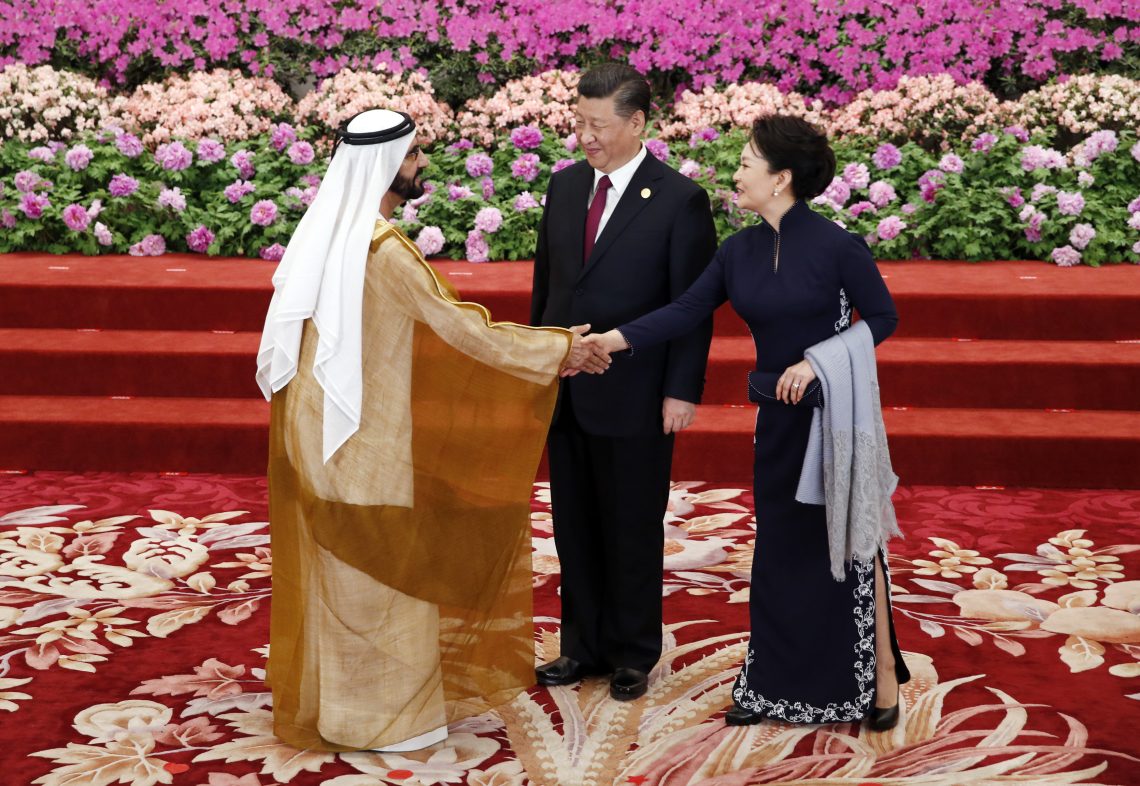 ×
In a nutshell
China has become an economic powerhouse in the Middle East
Beijing will need to tread carefully to protect its investments
Chinese presence in the region will likely remain strong
In the last decades, China has become the main source of foreign investment in the Middle East, as well as a major economic partner for several Gulf states, first and foremost Saudi Arabia and the United Arab Emirates. Beijing needed oil and gas to fuel its rapid economic growth and to become the largest exporter of goods in the world; the Arab states of the Persian Gulf needed export revenues to finance the diversification of their economies.
China has refrained so far from intervening in regional conflicts, such as the tension between Iran and the Gulf countries. It may have to proceed with even greater caution to protect its massive investments now that the United States is signaling its intent to disengage from the Middle East.
Flourishing cooperation
This year has already seen a flurry of diplomatic activities. The foreign ministers of Bahrain, Kuwait, Oman and Saudi Arabia visited Beijing in January. The UAE foreign minister held telephone conversations with his Chinese counterpart. Then the foreign minister of Turkey – a country grappling with a devastating financial crisis – went to China in a bid to reinforce economic ties; he allegedly pledged to prevent Uighur militants from setting up cells in his country.
Later, Iran's top diplomat visited Beijing to expedite the implementation of the far-reaching 25-year economic and strategic partnership concluded in 2021. Seen as a bulwark against American sanctions, it comprises assistance in developing military and nuclear industries, cyber capacities and intelligence cooperation.
Russia may be the dominant power in Syria, but it cannot compete with Chinese companies' impressive record of building ports, roads and railway tracks.
Furthermore, China is now involved in the reconstruction of Syria. Russia may be the dominant power there at the moment, but it cannot compete with Chinese companies' impressive record of building ports, roads and railway tracks – backed by limitless financial resources. On January 12, a memorandum of understanding was signed by the Chinese ambassador and the head of the Syrian National Council regarding participation in the Belt and Road Initiative (BRI). (The move angered Washington, which had declared it would not take part in the reconstruction of Syria as long as President Bashar al-Assad remained in power.) China also has a similar agreement with Morocco.
Beijing has invested $10.5 billion in 2021 in BRI-related and energy projects in Iraq, the third-largest supplier of oil to China after Saudi Arabia and Russia.
Egypt is an important station for the BRI, and in 2018 the two countries signed several contracts amounting to $18 billion. Beijing is involved in various infrastructure projects, among them the new Cairo administrative capital and the Economic-Technological Development Area in Egypt's Suez Canal Economic Zone in Ain Sokhna.
Altogether, China has roped 21 Arab countries into the BRI, its multitrillion-dollar project to revive the fabled silk road in order to transport and sell its goods to the markets of Europe and Africa. Two-thirds of its exports to these continents now transit through infrastructures built by Gulf countries.
Recent partnership
China had not been overly interested in the Middle East until the second half of the last century, when Deng Xiaoping (1978-1989) launched his modernization program and turned to the only region that could supply vast quantities of oil and gas. This led to closer ties and eventually the establishment of diplomatic relations with all Arab countries by the end of 1993.
With the start of the millennium, China was importing nearly 50 percent of its energy needs from the Middle East, exporting a wide range of its products, ramping up its investments, building infrastructure and transferring technology. Beijing never expressed an interest in human rights or lack thereof in the region, and its partners there adopted the same approach toward China.
In 2004, Beijing initiated negotiations to create a free trade zone with the Gulf states and establish a Chinese-Arab cooperation forum. Though the free trade zone has yet to be implemented, since the Gulf states have so far failed to set up a common market and currency, the forum is a huge success. There are yearly meetings to review results and map the next objectives. A first-ever summit of the forum countries' leaders is to be hosted by Saudi Arabia this year. According to the Chinese minister of foreign affairs, "[t]he decision to host such a summit is in itself a testament to the strong determination of both sides to elevate their strategic partnership and deepen cooperation across the board."
Strategic cooperation agreements were signed with Algeria, Egypt, Iran, Saudi Arabia and the UAE. However, when it comes to Tehran, China appears reluctant to implement the 25-year partnership mentioned above so as not to enter into a direct conflict with the U.S.
At a meeting on March 9, Arab League foreign ministers in Cairo praised China's efforts to peacefully resolve regional conflicts and expressed their wish to strengthen cooperation. China is Arab countries' main bilateral trade partner, with figures amounting to $330 billion in 2021. This does not take into account investments, the BRI and other infrastructure and hi-tech developments. Figures for trade with Saudi Arabia and the Emirates alone amounted to $200 billion.
Capitalizing on their strategic position on the sea route between Asia, Africa and Europe, Riyadh and Abu Dhabi started developing their port infrastructure already toward the end of the last century. Saudi Arabia's Horizon 2030 strategy to reduce its dependence on oil and diversify its economy focuses on making the kingdom a regional hub of ports and transportation. To that effect, it is upgrading the ports of Dammam in the East and Jeddah in the West. Connecting the Persian Gulf to the Red Sea, they are intended to become supercenters for container shipping. Abu Dhabi is also turning Jebel Ali and Dubai ports into multipurpose logistic centers.
Thus, Beijing found the two countries ready to be integrated into the BRI. China aims to further increase its capacity to accommodate container ships and intends to build a huge industrial park and a free trade zone where local and Chinese goods can be manufactured and sold or stored awaiting shipping to Western markets.
Saudi Arabia is the senior partner since it not only supplies 25 percent of China's oil imports, but also has a stable regime and is the undisputed Gulf leader. It was wary of the communist regime at first and did not cut off diplomatic ties with Taiwan. Only in 1990 were formal relations between Beijing and Riyadh established, though China in the previous decade had supplied Saudi Arabia with weapons, including missiles, that had been denied to the kingdom by Washington. China went on to win the tender for the construction of the Mecca monorail metro and the first segment leading to the pilgrimage sites was inaugurated in November 2010.
China will keep on doing its utmost not to get involved in local conflicts and avoid a collision course with the U.S., leaving Washington to deal with security issues.
In 2012, China entered into an agreement with Saudi Arabia for nuclear cooperation "for peaceful purposes," which included the building of a power plant and nuclear research reactors. It has recently transpired that it is also helping the country to develop ballistic missiles. While Washington is giving Crown Prince Mohammed bin Salman the cold shoulder to protest human rights abuses and the alleged Jamal Khashoggi assassination, Beijing is supporting Horizon 2030 and taking part in dozens of projects.
China holds more than $1 trillion worth of American bonds and there are talks between Beijing and Riyadh about switching from the dollar to the renminbi for oil sales. It will probably not happen since the Saudi riyal is linked to the dollar and Washington would see such a move as a threat to the preeminent role of its currency. Despite the frost between Saudi Arabia and the U.S., Washington remains a strategic partner and supplies advanced weaponry to its ally.
Over the past 10 years, the Emirates have been building and upgrading port infrastructure for the BRI, with Abu Dhabi Ports and Dubai DP World cooperating with major Chinese companies. They also set up friendly ports all the way to the Suez Canal. DP World finances, builds and operates ports from Eden in South Yemen to Berbera in Somaliland, and Bosaso in Puntland – leading to a rupture of relations with Somalia, which does not recognize the autonomous status of the two regions.
With Ain Sokhna in Egypt, the Omani port of Duqm, and the Sezad special economic zone developed by China, the maritime BRI has become an impressive achievement for promoting Chinese trade and economy.
×
Scenarios
By 2019 Chinese investments in the Gulf – ports and infrastructure – topped $177 billion. Beijing was rewarded with safe passage for its goods to Africa and to Europe. Gulf states used the money to diversify their economies besides enjoying transit revenues. In parallel, China has established its dominant position in the Middle East without entering into open confrontation with the U.S. – so far. Still, the Gulf states are mortgaging part of their earnings from oil sales to guarantee loans from China; should the country default, the fallout would be devastating for them.
Meanwhile, it is expected that cooperation will remain strong. However, both the pandemic and the Ukrainian crisis have adversely affected the world economy, with lower demand for Chinese goods and a rise in commodity prices and transport costs. Beijing hopes for at least 5.5 percent growth in 2022, but this is viewed as rather optimistic by most commentators – the second half of 2021 has seen less than 4 percent growth.
China will keep on doing its utmost not to get involved in local conflicts and avoid a collision course with the U.S., leaving Washington to deal with security issues. In their telephone conversation of March 18, according to Chinese reports, President Biden told Xi Jinping that the U.S. was not interested in a new Cold War and does not want to change the regime in Beijing.
This official Chinese version is open to doubt, but it seems that China is not looking for a conflict with Washington beyond the two burning issues of the South China Sea and the race for technology and economic influence. The two countries will remain rivals if not enemies but have no wish to go further and want to focus on ongoing crises such as the pandemic, the war in Ukraine and global warming.
China abstained on the United Nations Security Council vote condemning Russia's invasion of Ukraine, signaling that although it is siding with Moscow in its fight against U.S. hegemony, it will not get involved. It appears that the Middle East will remain at least for now outside the clash between the two great powers. But the situation could rapidly deteriorate should Iran fulfill its long-term goal of acquiring nuclear weapons.