In October 2019, after two weeks of protests, the prime minister of Lebanon tendered his resignation. His successor must now pull back the economy from the brink of collapse, but the Covid crisis could prevent him from taking the necessary measures.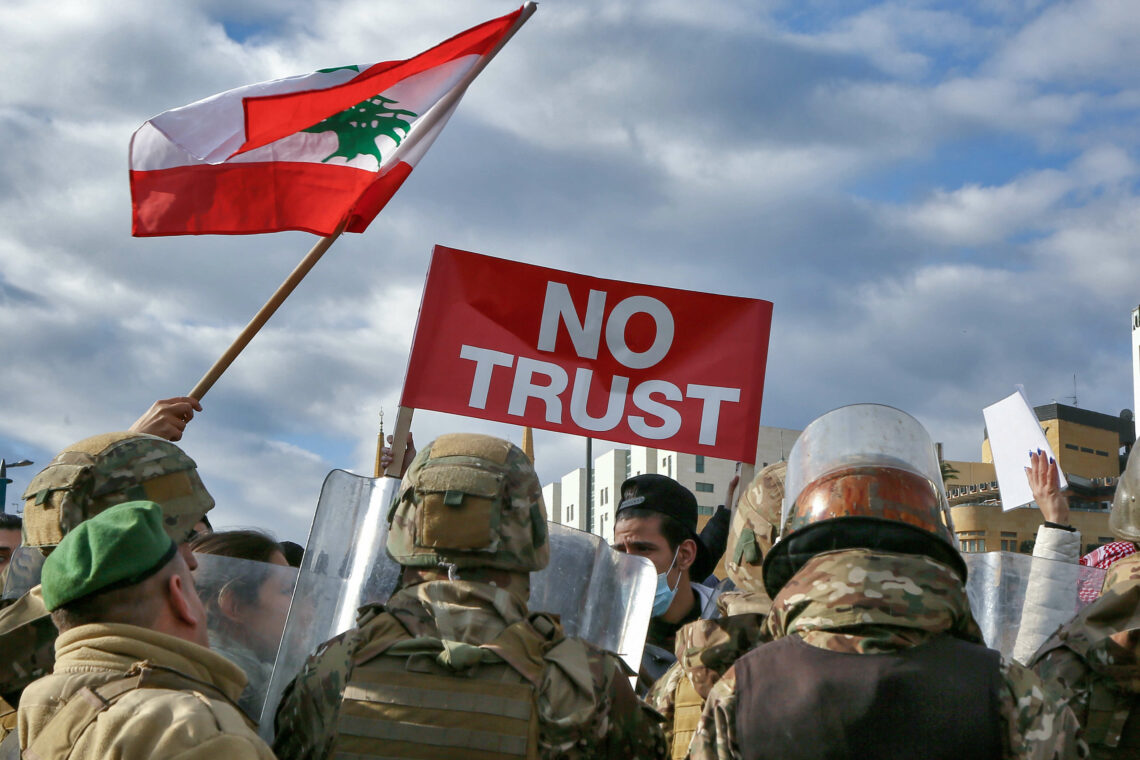 The Covid crisis found Lebanon facing its worst economic and political crisis in decades. The necessary containment measures are threatening the implementation of reforms urgently needed to restore economic stability. Widespread corruption, enabled by a regime enshrining ethnic and religious divisions, has hobbled successive governments and harmed the economy.
For nearly two decades now, Hezbollah, an organization created by Iran in 1982 as part of its grand design for creating a Shia crescent in the Middle East and destroying Israel, has succeeded in taking over the Lebanese political apparatus and dictating moves to suit its agenda. It now has representatives in the parliament and in key decision-making forums who enable it to siphon vast sums from the country's budget. Since the beginning of the Syrian crisis in 2011, more than one million and a half Syrians have fled to Lebanon, which at the time had some four million inhabitants. The need to supply them with the bare minimum to survive led to a sharp decline in the country's economic growth.
Unlikely reforms
In 2018, the World Bank predicted that half of Lebanon's population could soon find themselves in poverty. The country's external debt, $90 billion, amounts to 170 percent of its gross domestic product. After more than $1 billion was transferred abroad, the government imposed restrictions on money withdrawals from banks – first a maximum of $1,000 per week, then individual banks reduced it to anywhere between $1,00 and $400. At the beginning of March 2020, the government acknowledged that it would be unable to redeem the $1.2 billion in Eurobonds due on March 9 and took the unprecedented step of declaring a cessation of payment. Authorities are now trying to negotiate a new repayment schedule with bondholders.
Corruption, enabled by a regime enshrining ethnic and religious divisions, has hobbled successive governments.
In October 2019, citizens began protesting poor economic conditions, corruption and Iranian encroachment, leading to the resignation of Prime Minister Saad Hariri and his government two weeks later. On January 22, Hassan Diab, former Minister of Education, replaced the prime minister. He was backed by the pro-Syria March 8 Alliance, Hezbollah, the Shia Amal movement and the Free Patriotic Movement of President Michel Aoun.
He met stiff opposition from the March 14 Alliance, a coalition of parties comprising Mr. Hariri's Sunni Future Movement and two smaller Christian formations. Mr. Diab was eventually confirmed by parliament on February 11, with Hezbollah and its allied block mustering 78 votes out of the 120. With many calling for the new prime minister's resignation, protests continued until the government put in place a state of emergency to fight the spread of the coronavirus.
The new government is not likely to launch economic and financial reforms. These would run counter to its efforts to contain the spread of the virus. Lebanon is badly in need of external assistance. However, it can no longer count on its traditional allies. The United States, Saudi Arabia, the Gulf Cooperation Council and the Arab League have all designated Hezbollah as a terrorist organization. Riyadh suspended its annual $3 billion military grant in 2016 when Lebanon refrained from condemning the burning of the Saudi embassy in Tehran.
Can Prime Minister Diab and his mostly inexperienced ministers cope with such a dire situation?
Now, Washington has also stopped sending aid following the fall of the Hariri government. Iran is deeply preoccupied with the situation. It has invested billions of dollars in its Hezbollah proxy to ensure that Lebanon would remain under its thumb. Slogans against its interference during the demonstrations were a wake-up call for the ayatollahs – who faced popular protests at home while trying to stem a raging epidemic.
The next months, or even weeks, will be critical for Lebanon. Can Prime Minister Diab, a known Hezbollah supporter, and his mostly inexperienced ministers, cope with such a dire situation? Can he inspire hope when near panic is spreading? Even Hezbollah Secretary-General Hassan Nasrallah sounded worried during his rambling speech on March 20, delivered after weeks of silence (and rumors that he had fallen victim to coronavirus), when he asked citizens to trust their government. In the greater scheme of things, Iran is losing ground not only in Lebanon, but also in Iraq and even in Syria. Shia communities that supported Tehran in the past are now distancing themselves.