The case of Zhang Shoucheng and its implications for China
One of the world's most renowned physicists, Professor Zhang Shoucheng, committed suicide in December 2018. The academic career of this Chinese-born scientist, along with his extensive business interests and sudden death, have much to tell us about China's long-term strategy to overtake and surpass the West in disruptive technology.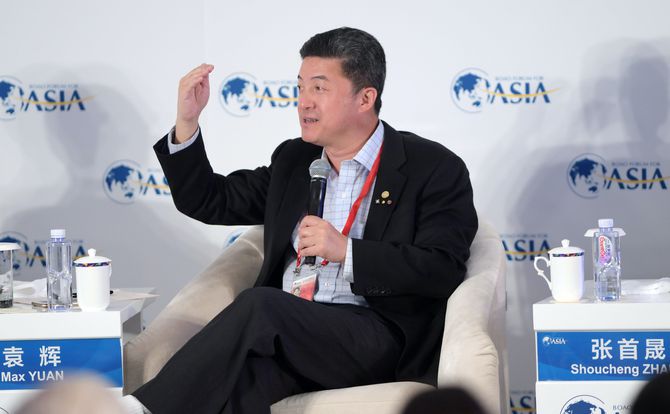 ×
In a nutshell
Zhang Shoucheng's brilliant scientific career illustrates China's long-term strategy of technology acquisition
He was deeply involved with the top levels of Chinese political and business leadership
Dr. Zhang's suicide shows the strains technology theft is putting on Sino-American economic cooperation
Zhang Shoucheng, a renowned Chinese-born quantum physicist, died on December 1, 2018, in a mysterious suicide. The 55-year-old Stanford University professor, a naturalized citizen of the United States, was a member of the National Academy of Sciences and the American Academy of Arts and Sciences, and had earned the unusual status of foreign academician at the Chinese Academy of Sciences. Among the many awards he collected over an illustrious career were the Oliver Buckley Prize and the Dirac Medal in 2012, and the Benjamin Franklin Medal in Physics in 2015.
Dr. Zhang's research on the quantum physics of many interacting electrons led to predictions of new phenomena and exotic states of matter, making a seminal contribution to physics. Before his death, it was widely speculated that he would be the next ethnic Chinese recipient of the Nobel Prize. Dr. Zhang's American colleagues praised his "extraordinary creativity" and wide-ranging intellect, which explored everything from novel materials of quantum gravity to artificial intelligence (AI).
Dr. Zhang's venture capital fund was investigated by the FBI.
Dr. Zhang's family kept a very low profile, releasing a statement that he had died after "a battle with depression." However, his apparent suicide came just 11 days after the publication of a report by U.S. Trade Representative Robert Lighthizer, which highlighted how China used venture capital to acquire cutting-edge technologies from the U.S. One of the cases outlined was that of Digital Horizon Capital (formerly Danhua Capital), which used capital from Chinese state-owned companies to invest in 113 U.S. companies, many specializing in "disruptive" sectors such as biotechnology and AI.
This venture capital fund, which was founded and directed by Dr. Zhang, had recently come under investigation by the FBI. Yet his family denied any connection between the probe and his untimely death. For their part, the Chinese authorities acted as if he were a person of no particular significance. Even so, Dr. Zhang's personal history is a revealing example of China's ambitious strategy to catch up and surpass the West, and particularly the U.S., in cutting-edge technologies.
Growing mistrust
China's ambition to obtain Western technologies is apparent, along with its readiness to use any means and pay any cost. Over the past several decades, Western governments have been inclined to indulge this desire, mostly because they hoped technological progress would accelerate China's economic and political transformation.
However, some governments have changed their tune dramatically in recent years, none more so than the U.S. Instead of considering how the world economy benefits from the spread of advanced technologies, policymakers are focused increasingly on how to prevent the Chinese from stealing them. For this, President Xi Jinping is partly to blame, because (unlike his predecessors) he has boasted too lavishly about technological achievements to the Chinese public.
China's refusal to allow political reform changed Western attitudes.
Yet a more fundamental reason for the changing Western attitude is China's refusal under Xi Jinping to countenance further political reform. This refusal contributed to a growing American distrust of Chinese intentions. China's increasing technological capacity was seen as a threat to free markets and liberal democracy, both of which had depended on U.S. technological supremacy and innovation in the postwar period. The widening gulf between Chinese and American attitudes forms the backdrop to Zhang Shoucheng's personal tragedy.
Career and intelligence links
Zhang had shown talent from an early age. In 1978, at the age of 15, he was enrolled at Fudan University's Department of Physics II. This was precisely the moment when Deng Xiaoping began to restore the country's higher education system, which had been devastated by Mao's Cultural Revolution.
Zhang was chosen as one of the first wave of elite students to be sent for education abroad. He graduated from Berlin's Freie Universitat in 1983 with a bachelor's degree in physics. In 1987, he received his doctoral degree from SUNY Stony Brook in the U.S. He then did postdoctoral research at the University of California Santa Barbara's Institute for Theoretical Physics, before joining IBM's Almaden Research Center in San Jose, California. Dr. Zhang joined Stanford as a professor in 1993.
At the time of Zhang's matriculation, the Department of Physics II at Fudan University was a very special institution. According to insiders, it was well guarded and totally isolated from the university's other campuses. Its students were expected to be both talented and "red," i.e. professionally smart and politically reliable. Among the department's graduates in this period was Jiang Mianheng, the elder son of the future general secretary of the Communist Party of China (CPC), Jiang Zemin (1989-2002). Today, Jiang Mianheng is one of China's leading technological policymakers.
Chinese intelligence has focused on acquiring technology since the 1970s.
A special feature of this period was that the head of Physics II worked for Chinese intelligence, and the whole department came under the jurisdiction of the national security authority.
Starting from the 1970s, one of the main responsibilities of Chinese intelligence agencies has been to acquire cutting-edge technologies. Since the Chinese leadership, like the Soviets, was very much focused on the U.S. as the most advanced economic and geopolitical rival, American technologies became the major target.
A favorite intelligence-gathering technique is described in the Chinese phrase "catch a big fish by casting a long line." The idea is that major intelligence breakthroughs can only be achieved by adopting a long-term plan. Zhang Shoucheng's career illustrates this method. While he was honing his skills and building his reputation, the Chinese authorities did not push him in any way. Once Dr. Zhang had established his position as a renowned scholar, however, officials reminded him of his duty to share know-how with the motherland.
The effectiveness of this tactic was enhanced by the Chinese authorities' reassurance to scholars that cooperation would not "harm their own work." Scientists were not expected to quit their foreign jobs or give up American citizenship. To the contrary, China prefers these experts to blend into their new countries and professional milieus, because this is the surest way for them to gain access to closely guarded technologies.
Thousand Talents Plan
China's Thousand Talents Plan meshes perfectly with this purpose. Its goal is to recruit overseas Chinese and foreign experts in selected fields to work at Chinese universities and research institutes. Initiated in 2008, the program covers practically every discipline of the natural sciences, but disruptive technologies are clearly the driving force behind the selection process.
Given the large number of outstanding Chinese specialists working mainly in the U.S., scientists like Zhang Shoucheng quickly became leading figures of the program. It is important to note that successful candidates had to be approved by the CPC Central Committee's Organization Department, meaning that they have been scrutinized at the highest political level.
The push to overtake the advanced nations became more urgent in the 2000s.
The Thousand Talents Plan had been preceded by a smaller, pilot venture run by the Chinese Academy of Sciences, called the Hundred Talents Program. The expansion of this effort shows how the push to overtake the technologically advanced nations acquired more urgency under President Hu Jintao (2002-2012) and his successor, Xi Jinping. Both administrations did not hesitate to invest lavishly in foreign talent to boost innovation at home.
Since most of the targeted experts had full-time jobs or academic appointments in the U.S., many were typically expected to lend their services for a month or two at most, at a handsome annual salary. This made it a very attractive financial proposition, supplemented by the promise of state-of-the-art facilities and generous funding for research. Chinese local governments developed their own parallel programs to encourage technological innovation.
To date, more than 40,000 experts have been recruited to the Thousand Talents Plan. Interestingly, the name of the program has vanished from official use since President Donald Trump's administration began accusing China of systematically stealing American technologies. But quietly and behind the scenes, it continues as before.
Mixing civilian and military
Among those experts, Zhang Shoucheng enjoyed a special status – largely due to his enormous contributions to China's technological progress. According to Guo Wengui, a billionaire Chinese businessman now living in exile in New York, well acquainted with prominent personalities in China and abroad due to his status as a special informant to the Ministry of National Security, Dr. Zhang was granted privileges similar to a member of the CPC Politburo (including special VIP license plates for his automobile). This indicates that Dr. Zhang had direct access to the inner circle of Chinese political leadership.
Mr. Guo recalled a special event about four years ago to which he was invited by the Chinese central government. It was an awards ceremony for five prominent individuals to be decorated personally by Mr. Xi, the party's general secretary. The event was closed and never mentioned in the official media, although it was of great significance to the country. Among the five honorees were three cited for special contributions to the country's digital industry: Ren Zhengfei, the founder and CEO of telecommunications giant Huawei; Jack Ma, the co-founder and executive chairman of Alibaba Group, and Zhang Shoucheng.
As can be seen, Dr. Zhang was moving in very rarified circles. What is more, as Mr. Guo recalled in his account, the ceremony was attended not just by party leaders, but also by top military commanders and the heads of Chinese intelligence. Their presence showed the special significance of digital technologies, which have both civilian and military applications. This makes the industry of vital significance not just for the economy, but also for national security.
"Mixing civilian and military sectors together and letting them benefit from each other," in the words of President Xi, is one of the key development strategies that China has borrowed from the U.S. Consider how the U.S. capitalized on military technologies to develop the internet in the 1980s. But as a mixed economy with a huge overlap between the public and private sectors, China has much more room to deploy this approach. At the signing ceremony last year for an AI contract between Alibaba and the People's Liberation Army (PLA), Mao Yongqing, the leader of a Beijing-based electronic warfare research institute, praised this "civil-military integration" as the best form of cooperation between universities, the private sector and the PLA.
Danhua Capital
What makes the U.S. uncomfortable is not only Dr. Zhang's activities in the Thousand Talents Plan (which has come under close FBI scrutiny), but also his leading role in Danhua Capital (later Digital Horizon Capital) – a $400 million, California-based venture capital fund that invests in Silicon Valley start-ups.
Starting in 2013, the fund had developed more than 100 projects, many of direct interest to the U.S. defense industry or with dual-purpose applications. Among the 113 companies listed in Digital Horizon Capital's portfolio in November 2018, most were in emerging sectors and technologies "that the Chinese government has identified as strategic priorities," according to the U.S. Trade Representative's (USTR) report. The fund's investors included Chinese state-owned companies, including an investment arm of Beijing's municipal government. Targeted technologies included AI, blockchain, big data, drones and voice recognition.
Danhua's activities were part of a larger Chinese push to infiltrate Silicon Valley.
Danhua Capital's activities were part of a much broader Chinese push to infiltrate Silicon Valley. In 2015-2017, between 10 percent and 16 percent of the venture capital deals in this high-tech center involved the participation of Chinese investors.
This made Dr. Zhang an accomplice in China's ambitious and ruthless pursuit of disruptive technologies, even if he was also merely a pawn in a much larger game. Just one month before his suicide, Danhua Capital was accused by the U.S. government of appropriating advanced American technologies and violating intellectual property rights at China's behest.
Huawei link
In addition to his role as a venture capitalist, Dr. Zhang maintained a list of corporate relationships that were unusually extensive for an academic. One of his best-known affiliations was with Huawei, whose research and development of 5G networks benefited greatly from his contributions.
A Chinese newspaper reported that Zhang Shoucheng was once picked up personally by Yu Chengdong, head of Huawei Technology's Consumer Business Group, for a working lunch while Dr. Zhang was visiting Shenzhen.
According to some Chinese sources, MsMeng Wanzhou, the chief financial officer of Huawei, and Dr. Zhang met and had a confidential talk one month before Zhang's suicide. Both had frequent interactions before this time. Mrs. Meng's detention in Vancouver, Canada, on a U.S. arrest warrant, which escalated the Sino-American trade dispute, occurred on the same day as Dr. Zhang's suicide.
The party's DNA
Regardless of leadership changes through the years, the authorities in Beijing have been remarkably consistent and unflinching in their catch-up strategy. In some sectors, China has already surpassed its Western rivals. From the Chinese leadership's point of view, the "fusion" of the civilian and military sectors has proven to be a successful strategy for technological development. They fully intend to stick to this formula.
From the U.S. government's point of view, this covert, forced or illegal technological transfer is a serious and growing problem. Well aware of U.S. anger amid an escalating trade war, the Chinese government has warned all leading research institutes to keep a low profile and not mention the official strategy by name.
Using covert methods will remain part of the Chinese repertoire.
But using covert methods to acquire advanced technologies will remain part of the Chinese repertoire. The CPC was born as an underground political organization, and conspiratorial methods are in its DNA. Party authorization "legitimizes" unlawful practices. One of the key indicators of this mindset is China's massive engagement in intelligence operations to acquire disruptive technologies from the West.
There is no reason to expect any change in this approach while Xi Jinping and his old guard remain in power. China certainly feels no guilt about its technological pilfering. Indeed, it argues that the U.S. did the same in the 1940s, shipping Nazi German technologies and scientists back to North America to forge ahead in rocketry and other fields.
Intensifying race
On a personal level, Zhang Shoucheng's story shows the excruciating dilemma many of his U.S.-based peers are now facing. His actions certainly display a certain degree of Chinese patriotic spirit. At the same time, he was a proud American citizen and a devout Christian who benefited greatly from the academic freedom and open society he discovered in the U.S. Behind the depression that preceded his death, there may have been a sense of guilt toward his adopted homeland that deepened as U.S. investigators got to the bottom of China's strategy of technological theft.
There is no doubt that China and the U.S. are in an intensifying race for advanced technologies, and that the personal risks for those involved are increasing. The U.S. Department of Energy recently banned its scientists from taking part in recruitment programs sponsored by foreign governments, including the Thousand Talents Plan. Washington's growing caution about Beijing's practice of "picking flowers in foreign countries and making honey in China" is bound to have a chilling effect on exchanges of scientific and technological information.
The Trump administration is constrained by economic ties with China.
At the same time, the Trump administration faces unique constraints given the manifold interconnections of the Chinese and American economies. Unlike the bifurcated world of the Cold War, which divided the globe into very distinct and autonomous economic blocs, the U.S. and China are intertwined with each other and with global commerce in ways the Soviet Union was not.
China has more room for maneuver than the former Soviet Union. It has already developed a truly impressive homegrown capacity for innovation, supercharged by information derived from espionage, cybercrime or a surreptitious brain drain. China is in the Western world but not of it, which means that the country is free to use both market and nonmarket methods. When necessary, it has astutely resorted to illegal techniques to enhance its capabilities.
It is now up to the Western countries, especially the U.S., to develop effective countermeasures.