The role of the Balkans in the Afghan refugee crisis
A mass flight from Afghanistan is expected as the country sinks into chaos and the Taliban tighten their oppressive rule. Europe fears a repeat of the 2015 migration crisis when it became the preferred destination of refugees from Syria.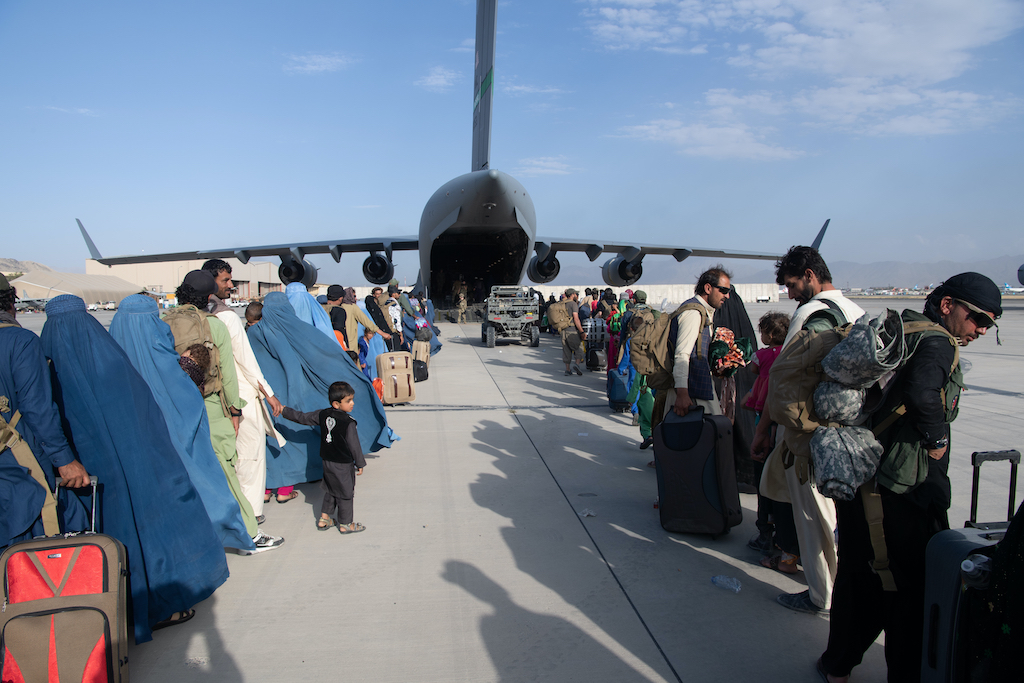 ×
In a nutshell
Three Balkan countries are helping the U.S. in resettling the Afghans most endangered by the Taliban
A massive wave of migrations to Europe is a clear possibility
EU officials are trying to persuade Afghanistan's neighbors to hold the Afghan refugees, but the plan may not work
According to the United Nations, the expected wave of refugees from Afghanistan threatens to prompt a new humanitarian crisis. The European Union, too, worries about a repetition of the 2015 immigration crunch. Six years ago, it also impacted the Western Balkans: a region that served as "the Balkan transit route" for a mass of Middle Easterners trekking to Europe. Most were refugees from the Syrian war, but the second-largest group was Afghans. And now, as the human rights situation in Afghanistan worsens under the Taliban rule and winter approaches, a new tide of emigrants may be headed to Europe. Many will choose to enter through the Balkans.
The region is already one of the few places that take in the Afghans evacuated by the United States as part of its retreat from the country. This development has geopolitical salience given the different stands of the U.S. and the EU on accepting Afghan evacuees and the ominous silence on the issue from Russia and China, two outside powers with significant influence in the Balkans countries.
Fears of a repetition
The EU member states are digging in their heels against any notion of opening their doors to new refugees. According to Prime Minister of Hungary Viktor Orban, known for his opposition to accepting immigrants into his country, some 4 million people in Afghanistan may migrate toward Turkey and Europe. Greece, severely tested during the 2015 crisis, has built a 40-kilometer wall with hi-tech surveillance systems along its border with Turkey. Denmark long ago applied a rigid immigration policy seeking to discourage asylum seekers. In contrast, the Netherlands accepted some 2,000 evacuated Afghans.
Afghanistan is likely to produce a new migration crisis in Europe.
Turkey, which is  been holding some 4 million Syrian refugees and 300,000 Afghans and agreed, in a landmark 2016 pact with the EU, to close the migratory routes, is refusing to enter a similar deal for Afghan refugees now. Turkey was not going to serve as a "refugee depot" again, Ankara reportedly told Brussels officials. In contrast to the chaotic Syrian refugee situation, the Afghanistan evacuation was an air bridge controlled and managed by the American armed forces.
×
Facts & figures
Rush evacuation
More than 215,000 people were evacuated by the U.S. and other countries from Afghanistan between August 13 and August 31, 2021, when the airlifts ended. The numbers of evacuees declared by the countries are as follows:
The U.S.: approx. 88,000, including 5,400 Americans. More than 7,000 Afghans were transported to 8 locations in Europe, mainly in Germany and Italy. Once their visas are processed, they will be resettled in the U.S.
Qatar: more than 40,000 flown to Doha
UAE: approx. 36,500
The U.K.: more than 15,000, between 5,500-7,000 of them Afghan nationals
France: nearly 3,000 people, more than 2,600 of them Afghans
Germany: 5,347, more than 4,100 of them Afghans
Italy: 5,011 people, including 4,890 Afghans
Australia: approx. 4,100
Canada: approx. 3,700 Canadians and Afghans
The Netherlands: approx. 2,500
Spain: 81 Spaniards and 1,898 Afghans
Belgium: approx. 1,400
Turkey: approx. 1,400, approx. 1,000 of them Turkish citizens
Sweden: approx. 1,100
Denmark, Norway, Poland, Russia, Ukraine, Hungary, Lithuania, Bulgaria, India, New Zealand, Austria, Switzerland, Ireland: fewer that 1,000
Post-conflict stabilization is not expected in Afghanistan soon. It is a failed state now, run by an internationally unrecognized regime of religious fundamentalists with little governing experience. The country's economy is rapidly collapsing; the currency is losing value. The UN predicts a new humanitarian crisis will develop. Already, donors at a conference in Geneva have pledged $1.2 billion in emergency aid for the country. EU chief diplomat Josep Borrell has warned that "some 5 million people in northern Afghanistan are in direct threat of dire famine … when the snow comes food will be hard to distribute."
Poor Prospects
The likelihood that Afghanistan will produce a new migration crisis in Europe is very high. Back in 2015, the Syrians entered Europe mainly through Greece, Italy and Spain – the "Mediterranean route." In 2021, Albania, Kosovo and North Macedonia are perceived as doorways for Afghan refugees.
Six years ago, there were sharp differences of opinion in Europe about accepting Syrian refugees: Austria, Denmark, Hungary and Poland opposed the idea very strongly, while Germany and Sweden, for example, welcomed them in high numbers. These days, all European countries are against admitting Afghans. While the EU members toyed in 2015 with a plan to host the arriving Syrians in the Balkans, now they are seeking ways to keep them outside Europe. EU interior ministers suggested after a meeting in early September 2021 that keeping Afghan refugees near Afghanistan could help prevent a repetition of unrestrained immigration. The findings of EU auditors that ineffective deals to return migrants to home countries were "encouraging" new illegal arrivals, could have played a role in this recommendation.
The UN also has called on Afghanistan's neighbors to keep their border open. However, about 2.2 million Afghan refugees are already in neighboring countries, and another 3.5 million people have been displaced within Afghanistan itself. While Brussels holds firm on not accepting Afghan migrants and refuses to recognize the Taliban government, China is exploring its options with the new regime. On July 28, 2021, a Taliban delegation met with Chinese Foreign Minister Wang Yi in Tianjin, and China's Foreign Ministry confirmed that the country maintains "contact and communication" with the Afghan Taliban. 
When Washington called for help in the crisis, Albania, Kosovo and North Macedonia promptly admitted the first groups of refugees.
Given China's close links with Balkan countries, especially Serbia and Bosnia and Herzegovina, one should not underestimate Beijing's ability to weigh in on the Afghan issue. And that intervention may prove unhelpful; a recent report by the Center for the Study of Democracy, a European public policy institute, found that China's investments in the region – $14 billion since 2009 – are correlated with worsening governance there.
U.S.' Balkan allies
When Washington called on the Balkan countries to temporarily accept the evacuated Afghans, Albania, Kosovo and North Macedonia responded positively and promptly admitted the first groups of refugees. However, Serbia and Montenegro said no to the U.S. request. According to Serbian tabloid Vecernje Novosti, Serbian President Aleksandar Vucic told former Austrian Chancellor Sebastian Kurtz that Serbia "will not be a parking lot for immigrants." Furthermore, the Serbian and Hungarian interior ministers signed "a protocol" on mixed patrols along the common border to prevent refugees' movement into Hungary in the same month.
Belgrade's rejection of the U.S. request is hardly surprising. Serbia aligns itself with Russia, is economically dependent on China and is critical of NATO. Montenegro has been a NATO member country since 2017, but it has a pro-Serbian government now.  The issue of Afghan refugees has become a geopolitical litmus test in the Balkans. At least three states: Albania, Kosovo and North Macedonia, have agreed to host the transiting refugees for three-month periods needed to process their visa applications for further relocation. The first group of 120 Afghans was flown from Kosovo to the United Kingdom on September 16. 
On top of that, Albania, one of Europe's poorest countries, agreed to take in up to 4,000 Afghan refugees permanently. Kosovo will welcome up to 2,000 and North Macedonia up to 2,000 persons. Not so long ago, Albania gave refuge to a large group of opponents to the Iranian regime and has adopted special security measures to protect them.
Population issues
The Western Balkan countries have experienced heavy population losses; some 25 percent of their inhabitants have moved elsewhere over the past decade. If the Balkans' economic development prospects remain dire and EU integration hopes frustrated after the EU-Western Balkans October 6, 2021 summit in Brdo, the region itself may create an emigration crisis in Europe. "We must keep our promises to the Western Balkans. For me, this is one of the most important lessons of the Afghan situation," the EU's enlargement commissioner, Oliver Varhelyi, told Hungarian newspaper Magyar Nemzet.
Opposition to admitting Afghan refugees has been low among both citizens and political parties.
More than one million Albanians have left their country over the last 20 years; half a million of them live in Greece today. North Macedonia lost some 500,000 inhabitants at the same time. Kosovo suffers from this problem too; its diaspora in Germany amounts to 400,000; the figure is half as big in Switzerland. Intimately familiar with the hardships of emigration and taking flight, these three countries immediately responded to the American call for help. In Albania and North Macedonia, Afghan refugees are housed in hotels and student centers. In Kosovo, near the KFOR/NATO base. 
Public opinion in the three countries has been friendly toward the newcomers. Opposition to admitting them has been low among both citizens and political parties. Many Syrian emigrants have remained in these countries since 2015. Granting the right to stay to a few thousand Afghans will add a tiny fraction of one percent to the population of each of these receiving Balkan countries. There is also a security angle to this. According to the 2021 edition of the "Global Peace Index," Afghanistan is the world's third-least peaceful. The six Balkan states are relatively peaceful, ranked between the positions 59 (Albania) and 91 (Montenegro) out of 161 countries. A small number of Afghans airlifted by the U.S. into three Balkan countries will not change this. However, the security outlook may become different if the refugee inflow becomes uncontrolled and the numbers swell. Should "the Balkan route" reopen, Europe is in trouble. Bulgaria and North Macedonia already have expressed concerns over this scenario. 
×
Scenarios
Under the present scenario of managed evacuation, the three Balkans countries involved in the airlift operation – Albania, Northern Macedonia and Kosovo – will maintain their strategic partnership with the U.S. and accept refugees in the numbers bilaterally negotiated with Washington. This will have no negative internal or external consequences. On the other hand, Serbia, aligned with Russia and China, will not accept Afghan refugees and maintain its opposition to U.S. policies in the region and NATO.
If, however, the human outflow from Afghanistan becomes uncontrolled, the EU will close its external southern border and try to persuade Turkey and the immediate neighbors of the failed state to keep the refugees away from Europe. If Turkey refuses to play along, as Ankara has signaled it would, illegal cross-border movement from Afghanistan and toward Europe will be hard to control. The three Balkan states will try to help at the margins. However, in a full-blown migration crisis, they are also unlikely to agree to be made into Europe's refugee-holding hubs.