The European Union's federal dilemma
With Europe facing unprecedented geopolitical challenges and political transition in key countries, will the EU act together, as a federation in the making, or fall back on divergent national positions?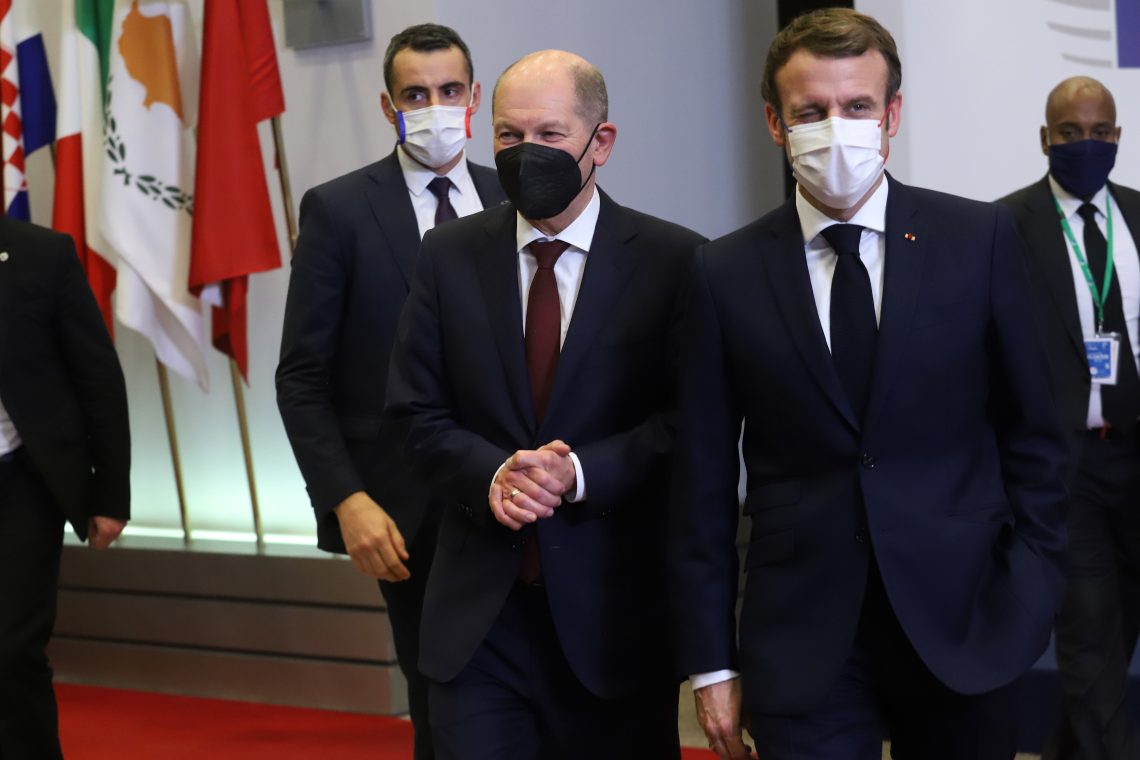 ×
In a nutshell
Geopolitical crises produce pleas for a unified EU response
Berlin, Paris and Rome call for a more federal Europe
But EU governments are divided and cling to national positions
The European Union is seen by some as heading toward a more federal system. It has broken taboos on "euro bonds" (bonds issued by the European Commission to finance grants and loans to member governments for a post-pandemic "green" recovery) and transfer payments. The EU has also taken initiatives to procure vaccines on behalf of members and create a "green pass" valid across the bloc. Many claim that Covid-19, Russia's pressure on Ukraine, inflation, energy price rises, climate change supply chain shortages and the digital revolution make it essential for the EU to act as one.
But others view recent crisis responses as unlikely to be replicated once the pandemic recedes. They see the EU as largely absent from Europe's most dangerous geopolitical crisis since the Cold War, with national approaches predominating on foreign, security and defense policy, economics, trade, climate change and public health. With crises and elections looming in key European countries and an ambitious French EU Council presidency, which scenario is more likely?
The federal scenario
With the advent of a new German government, the EU seems in for a bout of federalism. Its coalition government agreement states that the hitherto low-profile Conference on the Future of Europe "should open the way to a constitutional assembly leading to the development of a federal European state."
Chancellor Olaf Scholz and his coalition partners envisage changes to the EU treaties that until now had been anathema for fear of rejection in national referenda. He wants EU-wide European Parliament electoral lists, instead of separate national polls, and a binding "lead-candidate" system to choose the president of the European Commission.
Differentiated integration of this sort might create new divisions, but Germany is not alone in pushing for 'more Europe.'
This would end the selection of the head of the EU's executive and other top posts through backroom deals among national leaders. It might even open the door to their direct election, although this seems improbable as it would upend national politics.
The coalition agreement says the federal path "is an explicit alternative to the retreat of Europe into nation-state particularism, or the creation of a centralized European superstate. Until this is realized we want to see European integration deepened in parallel on the model of a 'Europe of different speeds.'"
Differentiated integration of this sort might create new divisions, but Germany is not alone in pushing for "more Europe." In November, French President Emmanuel Macron and Italian Prime Minister Mario Draghi signed a bilateral agreement intended, according to Mr. Draghi, "to support and accelerate the European integration process."
New driving forces
This process was once driven by the Franco-German tandem. The new Quirinale Treaty between France and Italy calls for progress toward a more federal Europe, preferably together with Berlin. President Macron views the Italian prime minister as a partner for upgrading European security and defense policies, particularly those related to the Mediterranean and Africa, and for adopting less stringent fiscal rules and more interventionist industrial, economic and trade policies in the name of "strategic autonomy." This controversial notion, promoted by Mr. Macron, generally implies a greater capacity to act with less reliance on others. His call for a separate European dialogue with Russia on Ukraine in the midst of the present crisis exemplifies this approach.
Most EU governments agree on the need to prioritize investment, modernize infrastructure, reduce emissions and boost digitization. For now, this means implementing national plans to disburse Brussels' 750 billion-euro recovery fund, a demanding task that will test the national governments' capacity to make good use of EU funds.
Missing parts
The new German coalition agreement makes the release of pandemic recovery funds conditional on respect for the rule of law, provoking disparaging remarks from Budapest and Warsaw. Angela Merkel, Mr. Scholz's predecessor, thought it more important to keep Budapest and Warsaw on board than to take them to task for democratic backsliding. An effective EU mechanism to ensure respect for the rule of law is still lacking.
Beyond Covid recovery, attention is turning to the stalled EU capital markets union and to completing its banking union. The Commission's capital markets union action plan and legislative proposals are intended to promote cross-border investments to help smaller companies raise funds and narrow the gap with the United States and Asian countries on venture capital, especially for advanced technology. Berlin, Paris and Rome support these objectives, although the German coalition agreement is light on detail.
The European Commission has entered a dynamic phase proposing its most extensive legislative package ever to address climate change.
The completion of a European banking union would likely contribute to economic recovery. But the coalition agreement makes plain that it does not aim to set up the missing pillar of the banking union, a joint deposit insurance scheme with mutual risk-sharing. This proposal still finds little support in Berlin. Efforts are underway in France to find a workaround, including a new name for this scheme. But a breakthrough is unlikely any time soon.
Brussels' push
Foreign policy, security and defense are classic attributes of sovereign states. Moves to give the EU a higher profile in these areas were buoyed by the departure of the United Kingdom, which always preferred to concentrate its primary defense efforts in NATO.
Renewed calls from Paris and Brussels for European "strategic autonomy" followed U.S. President Joe Biden's unilateral decision on when to withdraw from Afghanistan and the AUKUS alignment between the U.S., UK and Australia, replacing the Australian order for French diesel submarines with the sale of Anglo-American nuclear-powered submarines. According to the EU's "strategic compass," autonomy implies setting up a force of 5,000 land, sea and air combatants by 2025, able to intervene rapidly in crises without necessarily involving the U.S. The current crisis with Russia over Ukraine is a crucial test of the EU's ability to act together.
The European Commission has proposed its most extensive legislative package ever to address climate change. A raft of draft laws covers this as well as areas including migration and asylum, digital markets, artificial intelligence, as well as punitive measures for trading partners that fail to protect forests, minorities, underage workers and the environment.
Thierry Breton, the French EU super-commissioner for internal market, has been particularly active on the "green and digital transitions" and cybersecurity, semiconductors, connectivity, defense and space technology, innovation and industrial policy. He shares the French president's dirigiste vision of European authorities "accompanying" business as it adapts to global challenges.
He proposes a toolbox of measures to encourage European companies to become strong enough to face international competition, safeguard supply lines and protect the single market. This burst of lawmaking exemplifies what influential analyst Anu Bradford calls "the Brussels effect," with the EU as a "regulatory power" seeking to "rule the world" through the adoption of European norms and standards. Even if hyperbolic, this claim reflects a view of the EU as a rising power which, if not a federal superstate, aims to become increasingly "sovereign," taking over functions hitherto considered attributes of nation-states.
The nation strikes back
The term "European sovereignty," frequently used by the French president, is largely rhetorical and does not necessarily imply practical, operational commitment to bringing about an ever-closer European political union.
The German coalition agreement refers to a federal European state mainly as a gesture to Paris and a marker distinguishing the new government from its predecessor. A dispute between Berlin and Brussels broke out when a ruling by the German Constitutional Court seemed to question the supremacy of EU law.
Macron wants to team up with Rome in pressing Germany to accept higher deficit and debt ceilings in the Stability and Growth Pact.
President Macron says that the Conference on the Future of Europe should lead to the "refounding" of the EU, with greater centralization of powers in critical areas such as defense, the promotion of hi-tech, as well as asylum and migration. But so far, the conference has little visibility; citizens' contributions are steered toward legalistic conclusions, and the proposed treaty changes envisaged by the German coalition agreement are unlikely to garner support from fragile European governments.
Vows to accelerate European integration are largely a formality in Italy, the main beneficiary of the EU's Covid recovery funds. President Macron wants to team up with Rome in pressing Germany to accept higher deficit and debt ceilings in the Stability and Growth Pact, although the new German chancellor and his liberal finance minister are skeptical. Messrs. Macron and Draghi are lobbying for spending on green infrastructure, digitization and other priorities to be permitted over and above existing debt ceilings and for the recovery fund to become a "blueprint" for the future.
New and old fault lines
But there are multiple lines of fracture in the Berlin-Paris-Rome triangle, not least on the Commission's proposal to include nuclear power and natural gas in its taxonomy of green energy sources. In any event, smaller EU countries will not submit to a dominant group of larger member states.
The EU's Covid recovery fund broke a long-standing taboo on "euro bonds" and transfer payments to vulnerable EU countries. However, the German coalition agreement states that it is "limited in time and size." The experiment may not be repeated, given the reticence of Berlin and the "frugal" northern European countries. When he was finance minister, Olaf Scholz was premature in labeling it a "Hamiltonian moment," in which a federal Europe agrees to monetize the debts of its members. A specialized fund promoting green and digital investments might prove easier to negotiate than permanent exceptions to deficit and debt limits.
The joint procurement of coronavirus vaccines was a breakthrough, despite initial glitches. The EU digital Covid certificate or "green pass" recognized across the union is a step forward and more effective than Covid verification documents in the U.S. or UK. However, there has been little effective coordination of national measures to contain subsequent Covid outbreaks. The EU today is a patchwork of lockdowns, mask and vaccine mandates, testing requirements and travel restrictions.
The temporary reintroduction of internal border controls is justified under the EU's Schengen Borders Code, and Europeans initially showed understanding of the need for such restrictions. But the suspension of the EU's landmark achievement of free movement within its borders is damaging the tourist industry and, if prolonged, may have a corrosive effect on the EU's image. The French-led drive for greater strategic defense autonomy will garner only nominal support from the new German chancellor and Atlanticist Italian prime minister. Poland, Baltic, Nordic and other EU countries, which continue to see NATO as their first line of defense, will oppose it.
The EU has been largely absent from the standoff between the U.S. and Russia over Ukraine.
Scholars have made a case for the emergence of a European "military-industrial complex." While there has been modest progress toward defense industry cooperation at a European level, national interest, competitive pressures and European antitrust law are significant obstacles. How hard it is to promote mergers that create European champions was illustrated by the collapse of efforts by the Italian shipbuilding firm Fincantieri S.p.A. to take over the French company Chantiers de l'Atlantique. The latter, located in Saint-Nazaire, builds patrol boats, frigates and helicopter carriers in addition to its main business of civilian vessels.
Weak tools
Major geopolitical challenges have erupted in the EU's vicinity despite calls for a European defense or security union and decades-long efforts to stabilize the EU's "neighborhood." The EU has been largely absent from the standoff between the U.S. and Russia over Ukraine and from efforts to quell tensions in North Africa, the Middle East, Eastern Europe and the southern Caucasus. EU crisis management mainly involves emergency humanitarian relief, financial assistance, and sanctions.
×
Scenarios
National constraints
The EU's principal foreign, security and defense policy instruments consist of joint statements, partnership and cooperation agreements, and 10 largely declaratory strategic partnerships with countries ranging from the U.S. and China to South Korea and Brazil. There are embryonic industrial projects to develop joint weapons systems, a dozen civilian and seven military missions, involving a total of 5,000 people worldwide. In 2007, the EU decided to set up two joint battlegroups, neither of which has yet been deployed.
Constraints in these areas include larger EU states' preference for handling hot foreign policy issues themselves. Hence national vetoes on foreign policy decisions prompted by divergent national interests and threat perceptions; the priority given to commercial considerations in shaping policy toward China and Russia; the reluctance of Germany to take on a more active role for clear historical reasons; and concern about weakening NATO, which is mainly responsible for the primary defense of 21 EU countries.
The EU likes to portray itself as a "normative power," influencing others through its values, social model, norms and standards. But this power of attraction has been somewhat dimmed by the snail's pace of enlargement negotiations with the countries of the Western Balkans and Turkey, as well as the EU's limited instruments for addressing internal breaches of rule of law and democracy, not only in Hungary and Poland.
Brussels' image as efficient rule-maker is also losing its allure. Many regulatory proposals on the table of EU member countries are contested, from bans on the import of products driving deforestation to controls on artificial intelligence. Free trading governments and companies consider such proposals hard to enforce, overly cautious and involving unnecessary constraints.
The Commission's recent trade policy review acknowledges that "the EU's relative weight is shrinking given the emergence of new regulatory powers and rapid technological development often driven from outside the EU." Josep Borrell, the EU's chief foreign policy representative, was admirably frank in warning of the risk of the EU's "strategic shrinkage."
Hollow calls for a sovereign Europe
As 2022 dawns, Europe is beset with a new Covid-19 wave, rising inflation, one of the most menacing security challenges in recent decades from Russia, and energy shortages. The Biden administration is foundering casting doubt on the prospects for revived transatlantic cooperation.
President Macron, Europe's de facto leader since Angela Merkel's departure, faces a more contested election than expected. His calls for "strategic autonomy" and the conference on Europe's future are unlikely to captivate French voters. If reelected, he will probably have to share power with a parliament controlled by the opposition.
Mr. Macron's calls for a more federal and "sovereign" Europe ring hollow with European states reasserting national competence on issues from economic policy to trade, investment, public health, foreign policy, security and defense. In other fields, like reining in Big Tech, the EU is more assertive.
The only reliable prediction for 2022 is that European cooperation will take hybrid forms involving national and supranational initiatives. Whether this will provide the resilience the EU requires in an increasingly uncertain international system is an open question.