Bosnia and Herzegovina: Untying the Balkans' Gordian knot
The EU faces a looming reckoning in Bosnia and Herzegovina, the toughest challenge in the Western Balkans. Resolving it will require more resources and political will.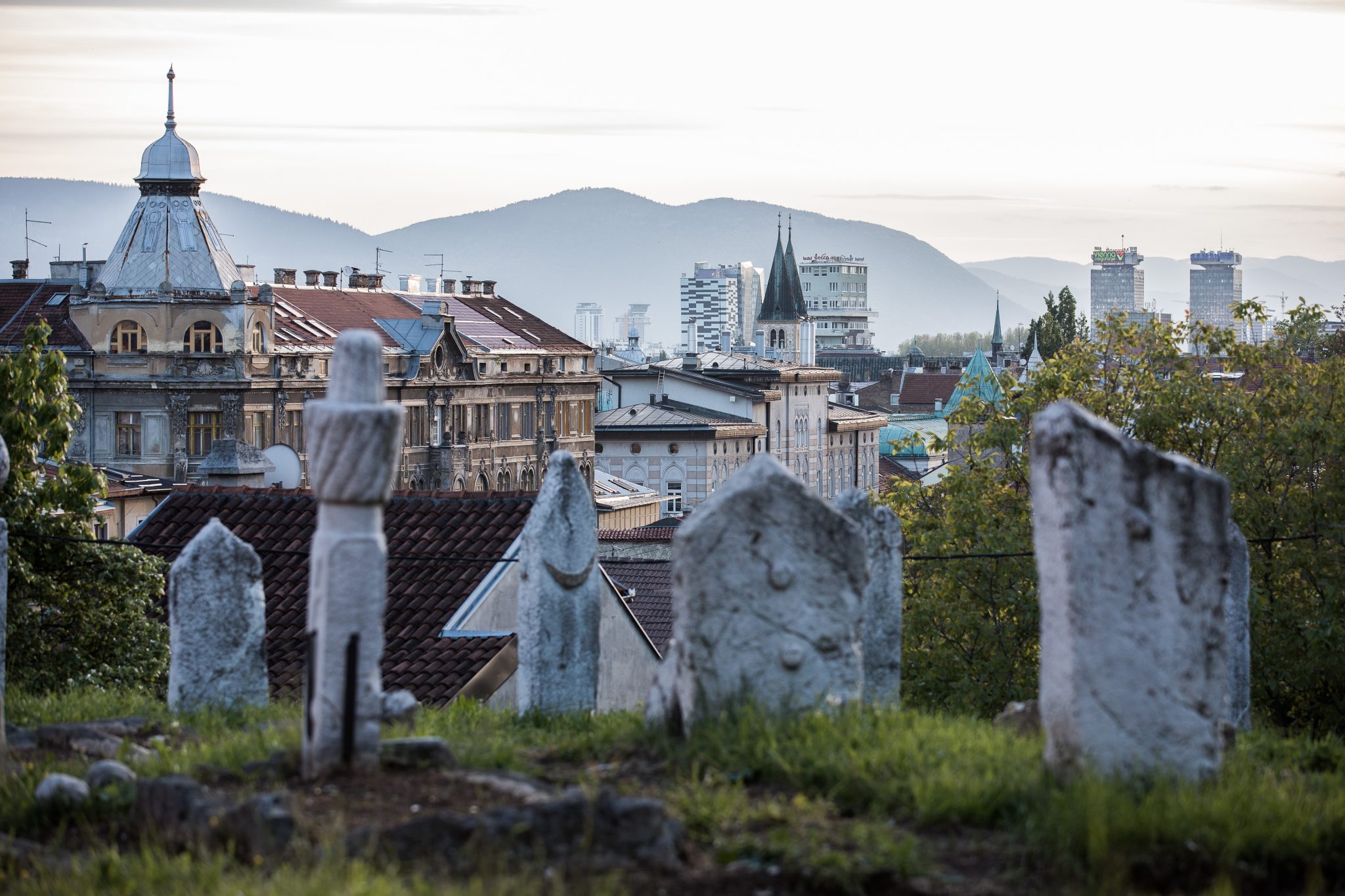 While the 1990s brought hope for positive change to most of the formerly communist half of Europe, they took a very negative turn in the Western Balkans, where Josip Broz Tito's Yugoslavia had formerly maintained a subtle balance between its constituent nationalities – if need be enforced by the ruling League of Communists.
Of the six republics and two autonomous regions that constituted federal Yugoslavia, Bosnia and Herzegovina was the heartland of suitably mixed nationality whose capital, Sarajevo, hosted the 1984 Winter Olympics. Bosnia and Herzegovina was where Tito's communists held the 1943 Jajce meeting of the Anti-Fascist Council for the National Liberation of Yugoslavia. There the partisan movement had fought its biggest battles against German occupying forces, later immortalized in epic movies like "The Battle of Neretva." Yugoslavia's emergency command-bunker system plus secret ammunition production sites were all located in the republic, underlining its strategic role within the federal state.
As regimes across Eastern Europe liberalized in the late 1980s, the communist party's grip on Yugoslavia eased, too, opening the gates to almost unlimited freedom of speech. Tragically, this gave the most virulent nationalisms a chance to express themselves and flourish as well. Amid raging inflation and a deep economic crisis compounded by a deteriorating security and human rights situation in Kosovo, the Serbian leadership together with the Yugoslav People's Army staged a de facto coup, taking over the structures of the federal Yugoslav state. In 1991, its attempts to quell secessionist movements led to the outbreak of armed conflict in Slovenia and Croatia, which promptly declared independence.
By April 1992, the contagion had spread to Bosnia-Herzegovina, too, where Serbian snipers fired into a mixed crowd of young people demonstrating in favor of continuing the republic's traditional multicultural life. The civil war and long Serbian siege of Sarajevo only ground to a halt when the United States intervened militarily, freezing the front lines and imposing a provisional peace and constitutional settlement in the December 1995 Dayton Accords.
Since then, the West and the European Union, under the auspices of the United Nations, have kept the peace but could not prevent further population shifts, often barely short of ethnic cleansing, including mass emigration to EU countries. Yet a high price was paid for achieving this limited objective, including political stagnation, slow economic development, and lingering uncertainty about the bipartite country's ultimate shape. Many Serbs and a majority of Croats hold dual citizenship in their country of ethnic reference, which is particularly practical in the case of Croat/EU citizenship. The obvious challenge is where the Islamic-rooted ethnic majority, the Bosniaks, can turn.
Alignment options
That the Bosniaks must even ask this question is due to the dysfunctional nature of Bosnia and Herzegovina (BiH) as a state, due both to its elaborate and overburdened bureaucracy and to acts of secession by its Serbian component (the so-called "Republika Srpska").
The theoretical options available are mostly unappealing or impractical.
A return to Belgrade's orbit is unthinkable, as the Serbian capital is no longer the iron-fisted but all-embracing hub of a multiethnic state. The war of conquest waged by Serbs in 1992-95 has left lasting wounds in Bosnia and in particular on the Bosniaks. Serbian crimes of genocide committed during the war are still denied or belittled by some Serbs, making reconciliation halting and difficult. Yet some sort of Serbian connection is indispensable, given the two nations' proximity and densely interwoven historical and economic ties.
The Republic of Croatia, the logical guardian of BiH's diminishing Croat population, especially in Herzegovina, is already host to many BiH citizens and has long tended to view Herzegovina as not quite foreign territory.
Austria is home to many refugees and emigrants, some of whom have advanced to senior political positions, including Tuzla-born Justice Minister Alma Zadic. For many Bosniaks, the Austrian connection conjures up associations with four decades of mostly peaceful development under Austro-Hungary in the run-up to World War I, just as others prefer to remember the stability of preceding centuries under Ottoman rule.
Modern Turkey itself remains a presence that has proved helpful in many ways, from the current local commander of NATO/EU troops to financial support for heritage and infrastructure projects, such as the Turkish and Serbian-funded motorway link between Belgrade and Sarajevo.
Double standards
In theory, the EU should be the first point of reference and closest to the hearts of BiH citizens. It has been the main sponsor for Bosnia and Herzegovina's economic development and the preferred destination of most emigrants from the country, almost all of whom have friends or family already living in EU member states. As for just about every other Western Balkans country, eventual EU membership represents BiH's only viable long-term prospect for stability, prosperity and peace.
Yet the EU has its own serious credibility problem. While many of its officials are well-grounded and in tune with regional mindsets, and despite its financial largesse, the EU is all too often perceived as clumsy, overly bureaucratic, easily duped and, above all, unreliable. During the Covid-19 pandemic, vaccines from China and Russia arrived quickly, in early 2021, with great fanfare, while EU help was seen as coming reluctantly and late. EU members with close ties to the Western Balkans – especially Austria, Italy and Greece – have tried to keep distracted European partners from sidelining the region, but they often find that task difficult.
Relations between Brussels and Sarajevo have long been burdened by a growing list of broken promises and disappointments. Today, many in the region harbor keen resentment at the EU's rush to offer Ukraine the prospect of EU membership. Yet the opening of a fast-track process for Kyiv would also help the Western Balkans accelerate their own accession bid, or at least put it back on track. Indeed, Austrian Foreign Minister Alexander Schallenberg, when closing an MFA panel discussion on EU enlargement in the Western Balkans on July 5, in Vienna, has called the Ukraine process a "launch vehicle" for the Western Balkans, which have been living with the promise of accession since 2003.
But Mr. Schallenberg has also been careful to insist that the EU rule out an "Animal Farm formula," where in Orwellian fashion some countries are treated as more equal than others. By this he specifically meant the application of double standards to countries like Bosnia and Herzegovina, on one hand, and newcomers such as Ukraine on the other.
The bigger picture
Bosnia and Herzegovina is unquestionably the most complicated of three unresolved regional issues that have dominated Southeast Europe over the past decade.
The first of these "Balkan knots" is the relationship between Skopje and Athens, which was resolved in an exercise of political determination and brilliant diplomacy by the Prespa Agreement, which formally adopted North Macedonia as the name for the young republic. One can only hope that the recent unexpected tensions between Sofia and Skopje can be overcome in a similar fashion.
The second, even bigger, knot is Kosovo, whose independence remains unrecognized by five EU member states. Yet a resolution is not unthinkable. Leaders in Belgrade, Pristina, the EU and the U.S. have made substantial progress along a variety of different avenues – none of which has led to a real breakthrough. To bring that about, serious psychological preparation, bold symbolic gestures, ample goodwill and diplomatic finesse will all be needed.
Bosnia and Herzegovina represents the third and most intractable knot – likely requiring the previous resolution of the other two, along with a serious, credible commitment from the EU. There is an obvious European interest in firmly anchoring all of the Western Balkans states inside the bloc, while pragmatic proposals for granting the region selective access to EU funds and decision-making processes are already on the table.
For the people of Bosnia and Herzegovina, this is probably the only convincing path toward a peaceful future and rekindled economic progress. But to make it work would require bold moves from the EU, which would essentially have to "buy peace." This vision can be dismissed as trivial, transactional or utopian, but an honest calculation suggests that the political and financial costs of engagement would yield enormous benefits to all.
The post-World War II Marshall Plan offers a clear example of how jump-starting economic development can be equally beneficial to the recipient and the donor. The tremendous Western aid effort in Ukraine is another blueprint for how to turn around a situation through a major commitment. The recent granting of EU candidate status to BiH was a welcome if overdue gesture, but unless there is a corresponding increase in integration efforts, no tangible results should be expected.