Scenarios for the India-China border conflict
As India and China continue to build infrastructure and expand their military forces along the disputed borders in the Himalayas, the hotspots are becoming hotter and the clashes more violent. The Asian giants' old conflict has entered a new phase.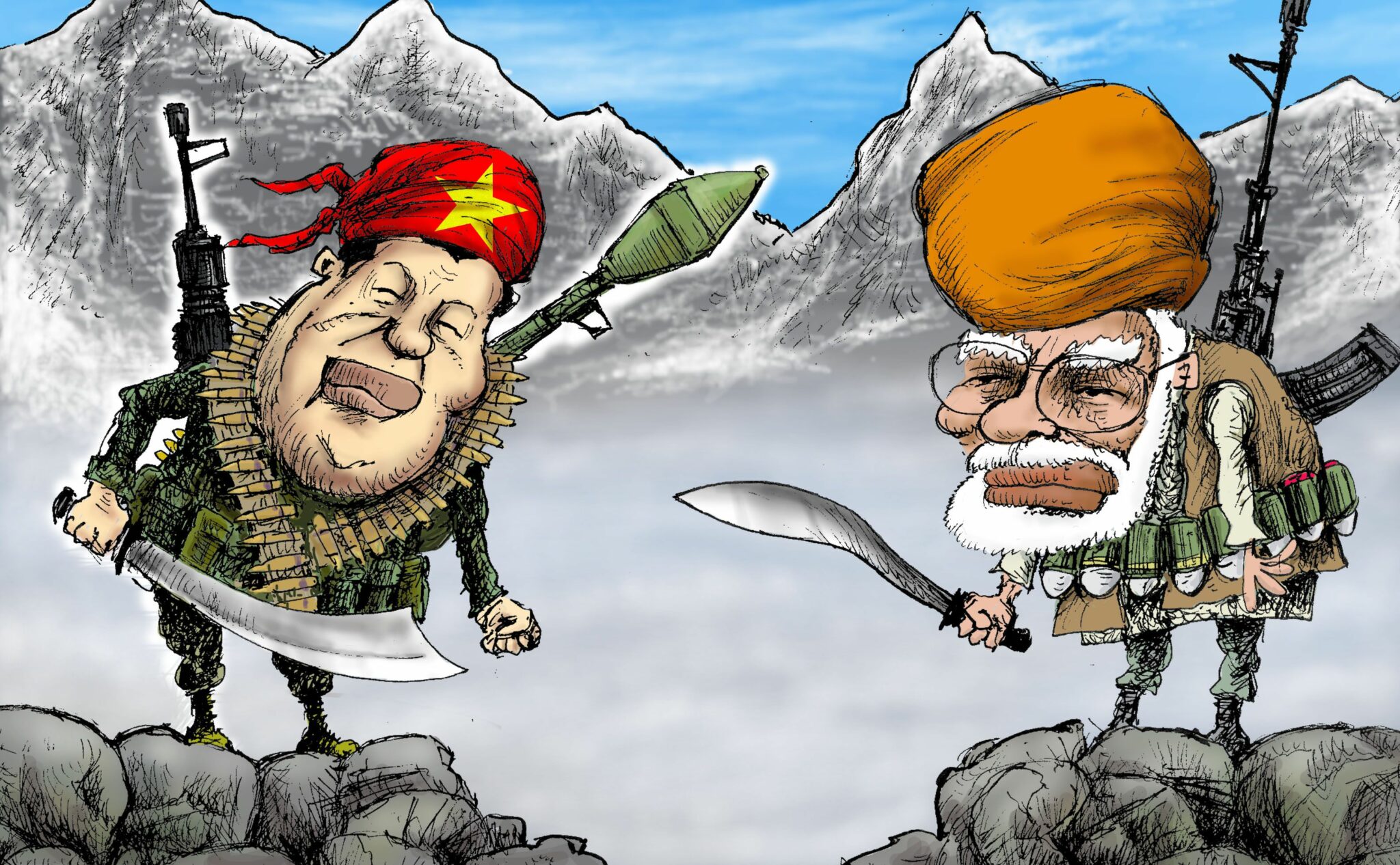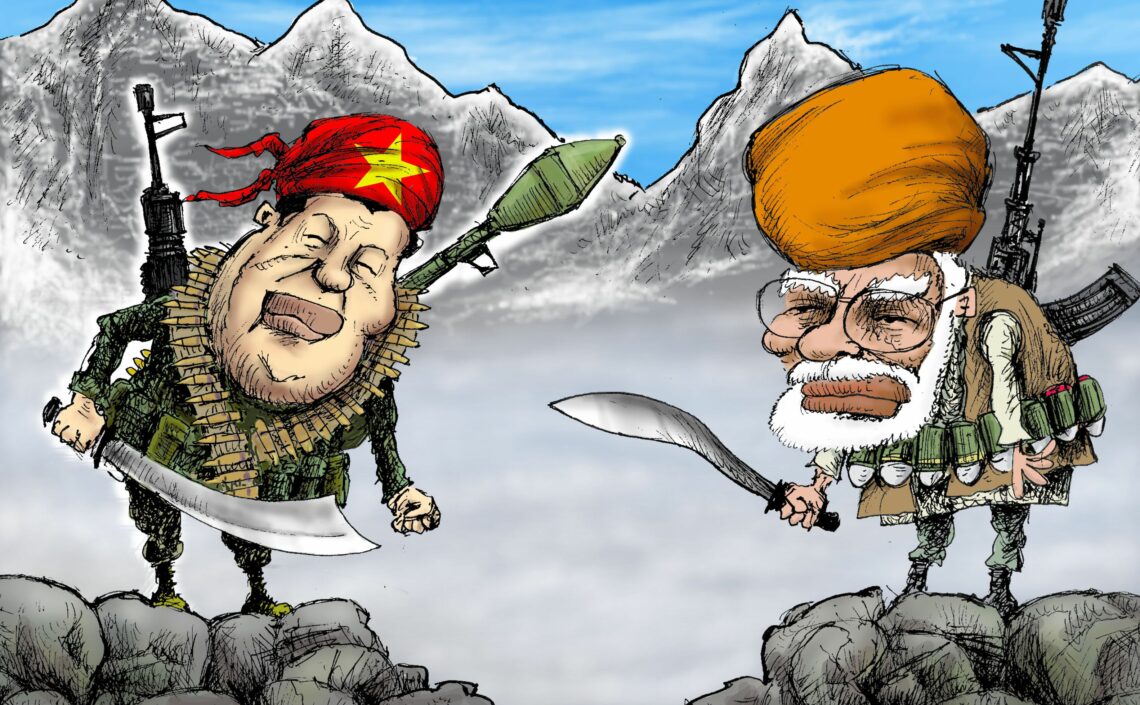 The bloody brawl of June 15, 2020, between India and China along their disputed border in the Himalayas marked a new low in the complicated, trouble-ridden relationship of Asia's two largest nations.
Weeks of escalating tensions followed Indian charges that Chinese troops had intruded at three points along the non-demarcated border in the mountainous Ladakh region, one of the two countries' bones of contention. It culminated in hours of direct fighting in Galwan Valley, which left 20 Indian and an unknown number of Chinese troops dead.
At the two hotspots, the army units have returned to their respective sides of the Line of Actual Control (LAC), as the de facto border is called. But in a third location, Pangong Lake, the Chinese have moved their soldiers eight kilometers forward into a no-man's-land claimed by both sides. Large military units have since been mobilized on either side of the border, presumably to increase their negotiating leverage as talks are expected to drag on.
The last time troops died violently on that border was 45 years ago.
New Delhi demands the status quo ante be restored along the LAC. It may take months, if not years before the border becomes stable again. The violence has ended six years of diplomatic engagement in which the two countries tried to rework bilateral relations to reflect their changed economic and military circumstances. Chinese leader Xi Jinping and Indian Prime Minister Narendra Modi met 18 times with the express purpose of defining red lines and clarifying gray zones. Mr. Xi spoke of this as a "historic mission."
Indian diplomats say the engagement was less about resolving problems, such as the border or trade issues, than about managing the ballooning number of difficulties and safeguarding a new economic relationship. The leaders even held two informal summits to strengthen their rapport.
India now suspects China is more willing to tolerate a degree of friction along its southern border.
There is, of course, no love lost between the two countries. But New Delhi and Beijing previously accepted there was little to gain from a confrontation. Border clashes have been fought with sticks and stones, not rifles and bombs. Disputes have been settled with stringent but nonviolent measures. Some have been games of patience: the 1987 Sumdorong Chu Valley border dispute took eight years to resolve. India now suspects China is more willing to tolerate a degree of friction along its southern border.
China's motives
Several theories circulate in New Delhi as to what could have motivated Beijing to disrupt what had been a relatively stable border.
India's military analysts believe China wants to maintain its border infrastructure advantage. Over the past two decades, India invested heavily in fortifying its northern border by building roads and air bases, deploying cruise missiles and mountain artillery. Beijing repeatedly triggered incidents to try to block or at least slow down this development. Two of the latest confrontation hotspots are near new highways and bridges built by India parallel to the LAC. However, this hardly explains the ferocity of violence or the Pangong Lake incursion.
Other Indian strategists are inclined to think that Beijing wants to send a message of strategic dominance. Several developments could have prompted this. One was the Doklam border standoff (near Bhutan) in 2017, in which India forced China to stop a road-building project. Another was India's change of Kashmir's constitutional status last year, which humiliated China's ally Pakistan and affected the legal status of the LAC.
India's previous skirmishes with China have led New Delhi to move closer to the United States.
However, Beijing's primary concern must have been the slow but steady drift of India toward an alliance with the United States. New Delhi has increased its purchases of U.S. weapons, strengthened military relations and joined in the revival of the Quad – an informal coalition between India, the U.S., Japan, and Australia designed to create a regional buffer against China. The souring U.S.-China relations may be why Beijing has picked fights with Australia and ratcheted up tensions with Japan and India. Chinese leaders may calculate that the Trump administration, preoccupied as it has been with the Covid-19 crisis and the presidential elections, would be slow to respond and appear not dependable to its allies in the region.
In any case, India's previous skirmishes with China have led New Delhi to move closer to the U.S.
Economic response
India has already erected informal barriers to Chinese investment in its critical infrastructure. And there are internal debates in government whether to expand these to cover more trade and technology. The economic sanctions have become part of India's broader strategy to pressure China. That strategy is presently unfolding and includes military and diplomatic efforts as well.
India's government contracts are mainly off-limits to Chinese firms and trade barriers have been imposed on 1,200 low-value Chinese goods, a policy that helps Prime Minister Modi's attempts to promote domestic manufacturing. Trickier to implement will be the plans to block Chinese-made solar cells and modules, and lure pharmaceutical base ingredients manufacturing into India. New Delhi also counts on wooing the firms leaving China to build a domestic electronics industry, but the scheme has met much skepticism.
Beijing suppressed news about the incidents in China's local press so it could retract without inflaming public opinion.
While India banned 59 Chinese internet applications at the end of June, it tried to reassure the numerous Chinese venture capital funds. The latter are the biggest foreign investors in the country – they have stakes in 18 of India's 30 unicorns (privately held start-up companies with evaluation above $1 billion). However, what matters most is that New Delhi will now openly work to oppose Sino-centric digital technology standards in the region. No one is betting on Chinese telecom giant Huawei receiving the clearance to deploy its 5G technology in India.